5 Tips for Running a Pizza Shop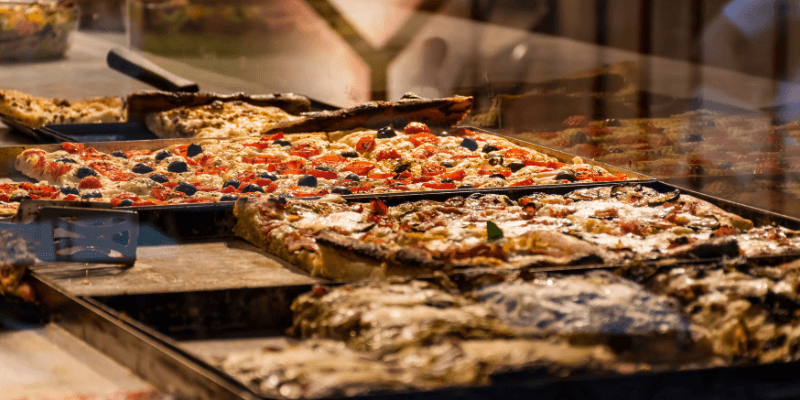 Pizza has been around for centuries and it's no secret why. You've probably enjoyed a slice of pizza at some point in your life.
Pizza is a popular food that most people appreciate, which is why opening your own pizzeria could be a great decision as long as you are prepared. If you are wondering how to open your own pizza shop and what will come along with it, keep reading for 5 tips to running a pizzeria.
1. Decide On Your Style and Brand
Coming up with the concept of a brand that is promising can be just as important as writing your business plan and securing funding sources. One of the biggest things to consider for branding is the style of your restaurant.
It is important to develop branding based around the type of restaurant you own, and you should start to come up with ideas on how to be memorable and unique. Do you want it to be a fast casual spot, or would you prefer it to be a more upscale spot with waitstaff? These are things that you should ask when putting thought into your restaurant concepts.
The style of choice should depend on factors like how much startup money you have, your location, and your unique style. Here are some of the main types of services for places that serve pizza.
Sit Down Restaurant
While this style of restaurant can come with several expenses, it can allow for a wider range of customers that you can reach. Sit down restaurants typically include a large number of tables, chairs, silverware, and linens. You most likely would have to hire servers and waitstaff. However, you could have the freedom to create the type of environment you want with little limitations.
Order-Out
This option is typically less expensive than a sit-down restaurant because you may not need as much equipment or have as many employees. However, the pricing of the food is one of your few selling points as you typically would not have contact with customers like you do when they dine in.
2. Make a Business Plan
Forming a business plan can be essential for structuring your model, getting funds, and continuing to stay organized along your journey. You might need to think about things like if you want your business model to be a sole proprietor, partnership, or corporation.
A huge part of making a plan is thinking about what personnel you want to help you grow your business. You should make sure you hire qualified employees who can represent you in the way you want.
Think about what type of business meets your specific needs. Here are the basic steps to follow for forming a business plan for your shop:
Business Overview and Description
Analysis of Market
Business Offerings
Operations and Management
Marketing Strategies and Public Relations
Finances Projections and Expenditures
3. Find Insurance Coverages
One of the most important things you can do as a business owner is purchase insurance. There are many different types of business coverages to consider. Here are a few to think about:
Property Insurance
General Liability Insurance
Cyber Risk Insurance
Workers' Comp Insurance
It could help you cover the cost of property damage, liability claims, and other costly damage that may occur. PolicySweet® offers different options for insurance like general liability, property, and cyber risk with our Business Owners Policy. Workers' Compensation coverage is also available to help protect your finances in the event a of workplace accident. Finding the right insurance for your pizza shop can build credibility, help retain employees, help protect your customers, and could save you money.
4. Advertise Your Business
In order to have a well-known business, you need people to be aware of what you have to offer and be able to find helpful information about it. Try to find ways to create excitement about your pizzeria so that you can entice people to come and give it a try. Good ideas can include things like joining Yelp, creating local ads, sending emails, and more.
Utilizing social media with accounts on Facebook, Instagram, Tik Tok, and other platforms is another great way to expose patrons to what you have to offer. You may share a few behind-the-scenes pictures of the pizza making or post a reel to share content. You can take this a step further by creating a website that customers can navigate with information about the restaurant, access to the menu, and maybe even an online ordering option.
5. Find a Good Location
One of the best tips for owning a pizza shop is to take your time while choosing the location. Try to find a place in an area where restaurants don't serve the same items. While competition can be healthy, you may not want to be overshadowed by a 5-star restaurant that has been running for fifty years.
Finding a spot that is easily visible should be something that is on your mind. Good locations are those that have heavy foot traffic, preferably facing the street and with a lot of parking availability. If your shop has people passing by often customers might be more inclined to stop in.
Last, be sure to check that the patterns of people and the local demographics of an area match your services. Otherwise, you could have people who are just not interested in what you have to offer. Restaurant style and brand should reflect the area as well.
Start Your Pizza Shop Today
Most people have grabbed a slice of pizza from their nearest pizza shop because there is such a high demand for this type of food. With a little bit of planning, great recipes, and a distinctive brand you can start a pizza business in no time. Try to follow the steps mentioned above to help you get started.
Make sure you check out the coverages we offer if you are seriously considering starting your own business.