Why Your Bakery Should Consider a Business Owners Policy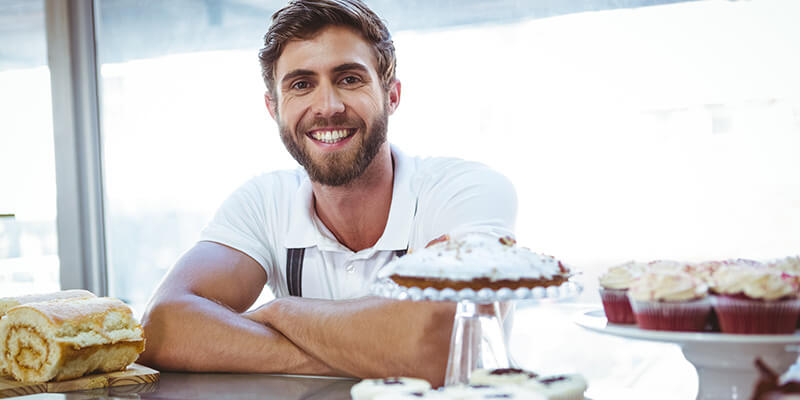 With the chance to be your own boss and engage your passions in a lucrative career, starting a bakery business is an incredible opportunity for the culinary-minded.
But opening a business is only half the battle — the next step is making sure you stay open. And even if your bakery takes off, unexpected situations can put you in a serious financial bind.
From accidents to data breaches, small businesses are vulnerable in more ways than you can imagine.
When you're starting a bakery, one of the best ways to protect your new venture is a Business Owners Policy (BOP).
A Business Owners Policy is a custom-fit insurance package for your small business. It can give hands-on entrepreneurs affordable coverage against all kinds of risks. In this article, we'll discuss Business Owners Policy and some of the coverages fit for your bakery insurance needs.
What Do I Need in a Bakery Business Owners Policy?
A bakery Business Owners Policy should cover any issue that can disrupt your ability to make your goods and supply them to your customers.
As with many businesses, the centerpiece of a bakery BOP is general liability and commercial property insurance. But depending on your circumstances, you may want to consider extra coverage options.
Let's explore the various insurance opportunities to keep your bakery running without a hitch.
General Liability
When customers come in and out of your bakery, general liability insurance can protect you if they are injured and seek compensation. Insurance might cover not only any medical bills but also legal defense fees and settlements. When all is said and done, general liability could end up saving you thousands of dollars.
Commercial Property
General liability is vital when customer accidents occur, and commercial property insurance can help you recover when an accident happens to you.
A bakery needs high-performance equipment to keep up with demand, and it often doesn't come cheap. If equipment or supplies need to be replaced because they were stolen or destroyed in a fire or natural disaster, a commercial property policy can cover the bill.
Equipment Breakdown
A bakery lives and dies by the equipment that churns out the goods, and operations will come to a grinding halt when an oven or refrigerator goes out. Repairing an appliance, especially a commercial one, can be an expensive obstacle. But it's crucial to get it taken care of so you can get back to business.
It's a frustrating scenario that gets a lot more manageable when you have an equipment breakdown plan. Under an equipment breakdown plan, your bakery machines are covered against several causes of failure, including:
Power surge
Motor or component burnout
Electrical shorts
Pressure loss
Your insurance could cover the appliances you use for making your baked goods along with any other equipment you use in your bakery for business operations. If you have registers, commercial grade mixers, or blenders, the cost to repair or replace them could be covered with equipment breakdown. For almost all equipment, insurers will help you to restore them as long as they fall within covered losses.
Equipment breakdown insurance manages a ton of risks that bakeries face. When it comes to your refrigeration equipment, it could cover repairs as well as any spoiled food. It could reimburse you for lost inventory too. When you have a vast range of baking equipment, you can be confident that you might be able to overcome any broken-down machine and keep your business operating.
Cyber Liability
If you manage customer information in a database or even take credit card payments, you could be at risk of a data breach. If your system gets hacked or breached by a virus or other malicious attack, customer information can be exposed and your business could face several expenses in order to recover.
Many business owners don't realize the risk, but cyber liability insurance can help to protect you from the impact of a broad range of very real threats. If customers take legal action or if you need to notify impacted parties, these expenses could be covered. As cyber liability is becoming a deeper concern for businesses of all sizes, PolicySweet® includes it as a standard part of our BOP coverage.
Business Income
Bills don't stop even if your business does. When you can't work because of an equipment loss, you still need to maintain a standard of living while you work on getting repairs or replacements. With business income insurance, any lost income that comes from a disruption in your business could be covered.
Keep Your Bakery Dream Alive with a Business Owners Policy
A Business Owners Policy can be customized to fit every unique detail of your bakery, to provide you with coverage you want. Opening a bakery takes hard work, determination, and sometimes a little bit of help. With a Business Owners Plan, you can get that help through peace of mind knowing your business can be protected if an incident occurs.
Our team at PolicySweet specializes in getting budding bakery operators small business insurance to fit their needs and budget. Our BOP options combine general liability, property, and cyber liability, with added insurance available to cover you against any threat.
Get started on a quote today and learn how we can save you time and money with a comprehensive Business Owners Policy.