General Liability Insurance for Advertising Firms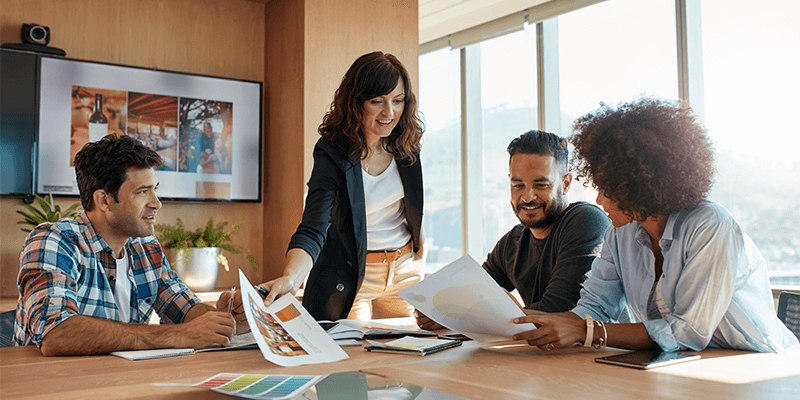 Industries across the board depend on advertisers like you to attract customers and clientele. Interacting with a variety of sectors could grow your network, but it can also open the door to possible liabilities, a concern shared by almost every growing business.
Today's advertising firms face several liabilities. General liability insurance could put your worries at ease so that your ad agencies can do what they do best—being creative.
Let's take a deeper dive into general liability insurance for advertisers.
How to Get Started
If you're new to buying ad agency insurance, a general liability insurance plan is a great place to start.
This option is also known as business liability insurance. Many small business owners purchase general liability insurance; even independent freelance contractors consider this type of insurance.
Since you work with so many clients, you never know when something could go wrong. Even a small incident could lead to big out-of-pocket expenses if you're not insured.
Claims can arise from injuries allegedly sustained on your agency's property or from third-party items handled by your company. There are also non-physical types of damages like allegedly harming one's reputation, slander, and libel accusations.
Lawsuits could generate a considerable amount of lawyer fees and medical expenses for uninsured ad agencies. There's also lost time and productivity to factor into your expenses.
What Could General Liability Cover?
It's critical to understand what business liability insurance may cover (and may not cover) so that you can plan accordingly. If you're in the process of building your agency, you may want to keep liabilities and insurance in mind as you draft your budget and business plan. Everything from an advertising injury to an in-person interaction could be a liability.
Claims of Physical Injury Sustained At Advertising Firms
First and foremost, general liability policies may cover bodily injuries that allegedly occur at your agency or directly from your advertising materials. If you're a print media, outdoor advertiser, or event promoter, you're probably more familiar with these types of liabilities. However, digital ad agencies are still vulnerable to bodily injury claims if there is an office or if interactions occur in person.
Property Damage Claims
Another important scenario to remember is possible injuries arising while working with another party's property, like a third-party vendor. For example, if your ad agency rents outdoor ad equipment from a vendor and an employee damages it, you may be liable to cover the costs to repair or replace the damaged property.
Non-Physical Claims (Slander, Libel, Etc.)
The next set of liabilities to consider is non-physical liabilities. These typically include accusations of libel or slander. A general liability policy may be able to step in if another party accuses your firm of slander or libelous activity.
These types of accusations and claims can be difficult to define. Several situations could potentially lead to such liabilities.
Examples include:
Disagreements over ad campaigns (creative differences, etc.)
Miscommunication about advertising expectations
Discrepancies over payments
Discrepancies over advertising campaign results
Problems with vendors
Accusations from former employees or partners
Failed negotiations
As you can see, there are many opportunities for another party to make an accusation or file a slander or libel claim. Digital interactions and social media also make ad agencies vulnerable to allegations.
What Isn't Covered By General Liability Insurance?
Understanding what business liability insurance could potentially not cover is just as critical when protecting your agency.
For example, general liability typically refers to claims and injuries sustained by third parties. These parties would be clients, customers, vendors, partners, and bystanders injured on your property or by your materials or equipment.
This type of liability insurance doesn't cover injuries experienced by employees. You would need to purchase a separate policy known as Worker's Comp insurance along with general liability to have both protections.
Business liability insurance may protect your advertising agency when someone sustains an injury or makes a claim. It doesn't protect your agency's own property from damages. You would need to acquire commercial property insurance for added protection.
Data and internet concerns are two other liabilities not covered by general liability plans. Ad agencies typically manage large amounts of company and consumer data. Agencies could be vulnerable to lawsuits and claims if a data breach were to occur.
Cyber insurance can help cover investigative costs for breaches and data loss. You may also receive coverage for customer notification expenses.
Similar to commercial property insurance, cyber insurance isn't covered by a general liability policy. You can purchase these coverages as part of a complete Business Owners Policy (BOP) from PolicySweet. It includes general liability, business property, and cyber coverage in one easy to manage insurance plan.
You can start the process right now by requesting an insurance quote online. All you have to do is answer a few questions about your advertising agency to receive an instant quote. Your agency could be insured as soon as the next business day.
Discover the Benefits of General Liability Insurance
Advertising firms are faced with many liabilities. Having coverage by your side is essential. Keep this guide handy as you learn more about your options.
Are you ready to purchase business coverage right now?
Request a quote for coverage to get started. You can always contact us to learn more about our full range of products.