How to Start a Graphic Design Business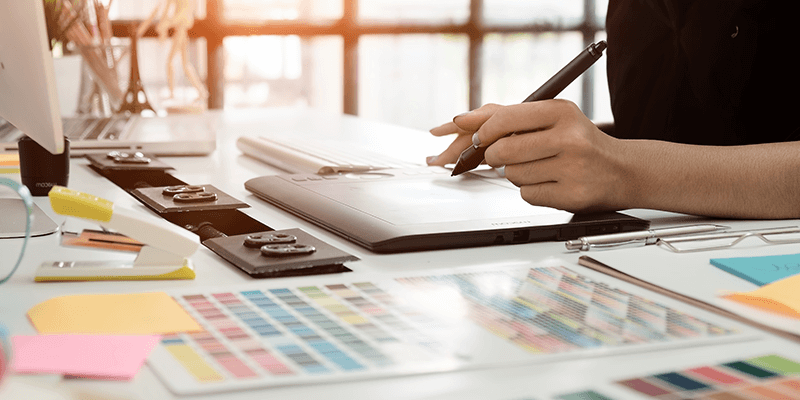 If you're a talented graphic designer, you might feel like now is the right time to start your own graphic design business. Starting a small business in graphic design can be a great way to use your skills as well as make money.
But before you plunge into self-employment and start selling your services, there are a few things you should consider when setting up your business.
Keep reading to learn about the steps to help get your venture off the ground and running.
Choose a Business Name and Legal Structure
The first step in launching your small business should be to pick a name and a legal structure. When selecting a name, go for something that clearly communicates what your business does.
After coming up with a few name ideas, you should ensure that you can use one of them. You can start by searching on Google or at the U.S. Patent and Trademark Office. An intellectual property attorney can provide assistance with this.
After finding the business name, you should choose a type of legal entity for your graphic design business. You can either pick a sole proprietorship, a limited liability company (LLC), a partnership, or a corporation. You can ask a business attorney to help you choose the best option.
Decide on Your Services
In this step, you should choose your area of specialization. Although the graphic design industry has a wide range of niches, don't be tempted to do it all.
You can venture into animation, web design, or logo design. You'll also have the option of infographics, brand strategy, typography, and poster design, among others.
Start by evaluating your expertise and choosing an area that aligns with it. Alternatively, you can select the niche that you enjoy most.
Get Permits and Licenses
If you've read materials on how to start a small business, you might know that you should obtain required permits and licenses. You will likely need to register your business with the state by filing for a business license and a tax ID.
You may have to apply for a general business permit or a zoning permit, depending on your location and your business activities. Having the required permits and licenses can help you avoid legal issues.
You could seek assistance from a business attorney if you have any questions about what types of permits and licenses you need for your graphic design business.
Develop a Business Plan
It is a good idea to think about a business plan before starting any type of small business. The goal of the plan is to outline your marketing strategy and goals. It can even contain an analysis of your competitors and details about the services you intend to offer.
You might also want to include factors like your starting capital and your financial projections. Your business plan should show how much you intend to charge for your services.
This can be tricky, especially if you're just starting and don't have any previous client work to use as a reference point. Do some research to see how much graphic designers in your area are charging for similar services.
Get the Right Gear and Workspace
You'll likely need some essential equipment to start your graphic design business. This equipment could include a computer, software, a printer, a scanner, and a digital camera.
If you don't have the budget to buy everything at once, you can start with the basics and gradually add to your collection as your business grows. You can leverage equipment financing to help you get the gear you need without breaking the bank.
As for your workspace, you can either work from home or rent an office. Working from home is a great option if you're on a tight budget.
However, it can make it difficult to stay focused and be taken seriously by clients. You could try to find a shared workspace or rent a small office if you believe having a separate space will work better for you.
Get the Right Insurance
You should consider obtaining small business insurance for your entity. This is important because it could help protect you and your business if anything goes wrong.
Business Owners Policy
You might want to think about getting a Business Owners Policy (BOP) for your graphic design company. This insurance coverage bundles different commercial insurance policies into a single package. It can be the perfect option for your new business because it might be more cost-effective than buying separate policies and it could be easier to manage.
A BOP from PolicySweet® includes general liability insurance. General liability coverage can protect your business from financial losses in case of third-party property damage and injuries that people may suffer during business operations.
A BOP policy includes property insurance as well to help protect your business from losses that may arise due to accidents like vandalism and fire. It can also cover income loss resulting from a covered peril.
Cyber risk insurance is also included in a BOP to help protect your graphic design business from the impact of data breaches and cyber security attacks.
HomeHQ
A different type of policy you might want to consider if you operate your business from your home is HomeHQSM. This policy is different from BOP insurance as it is designed for home-based businesses from common risks.
A HomeHQ policy could cover business liabilities that your renters or homeowner insurance doesn't cover. It includes business liability insurance to help protect your home business against third-party liabilities.
It also features business property insurance to help protect your business from losses caused by fire, wind, or other conditions.
HomeHQ also contains business stock insurance to help cover the cost of replacing your business inventory in case of damages.
Market Your Business
You might want to promote your business in order to find clients. It could allow your business to grow. You can start by creating a portfolio of your best work and showcase it on different marketing platforms.
If you use various marketing platforms it can help you spread the word about your business. A good place to start could be your own website. Ensure that your website is appealing and has all the details a client might want to know.
You could also promote your business on social media platforms such as LinkedIn, Facebook, and Instagram. Consider attending local events and meetups related to graphic design to network with other designers.
Open a Business Bank Account
You should think about opening a business bank account to manage your finances and keep your personal and business expenses separate. This might make it easier for you to file your taxes at the end of the year.
When choosing a bank, compare different options to find one that best suits your needs. Consider things like transaction fees, interest rates, and minimum balances required. Consult with your accountant or financial advisor before opening a business bank account.
Follow These Steps to Help You Start a Graphic Design Business
By taking these steps, you can build a graphic design business that meets your needs and helps you achieve your goals. Just stay organized, market your business consistently, and deliver quality work to your clients.
When it's time to get your small business insurance, PolicySweet can help. We have insurance options that can help reduce risks that are unique to graphic design businesses.
Contact us today, and we'll be happy to help you choose insurance for your business.