What Insurance Coverage Should a Fencing Company Consider?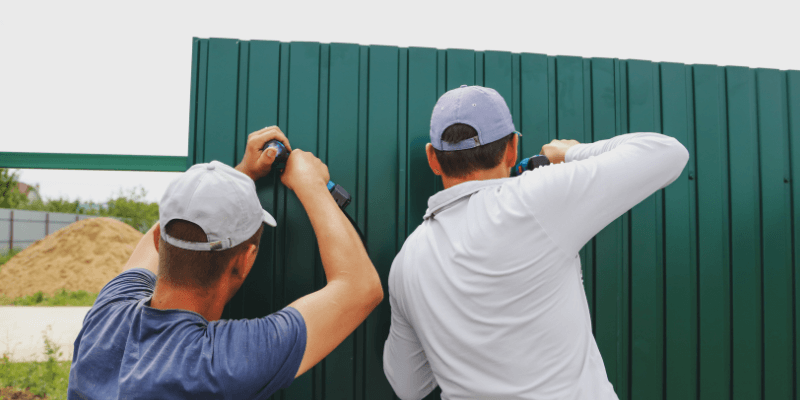 Are you one of the 24,470 fencing contractors working in the United States? If so, you most likely understand the sense of security your work brings to your clients. You help keep pests and wildlife at bay and can make homes look more attractive.
But as with most areas of the construction industry, a fencing company could face risks. This can include property damage, injuries, and attacks on your reputation. To help protect your firm, you should think about obtaining business insurance.
Not sure where to start? Join us as we explore different types of insurance a fencing company might need to survive and thrive.
Insurance Types for Fencing Companies
Each state has its own licensing requirements for contractors. Fence companies typically need a general contractor license. To get a license, you may be required to have general liability insurance.
General liability insurance can help protect your business if you accidentally cause damage to a third party's property or injure them. Clients may ask to see evidence of this before they hire you. But this might not be the only type of coverage a fence installation contractor wants to obtain.
To help protect your employees and business, you may also want to think about:
Property insurance
Cyber insurance
Workers' Compensation insurance
Business Owners Policy
A Business Owners Policy combines three essential insurance policies into one package. This could help save you money compared to buying individual policies for each type of coverage.
General Liability Insurance
We all try to be careful at work, but accidents can happen from time to time. General liability can help protect your business in the event of a claim made by a third party.
It could cover your legal expenses, which could quickly mount up. Paying for medical expenses for a third-party could also cost your business thousands of dollars. General liability insurance is there to help protect you in these kinds of scenarios.
General liability insurance can also cover you if you or one of your employees damages your client's property. If they can make a claim against you, you might not have to pay out of pocket as a result of having this type of insurance.
Property Insurance
While general liability insurance can be essential, it does not protect your business property. This includes your tools, machinery, computer equipment, and inventory. Property insurance is there to potentially compensate you if you're a victim of theft, vandalism, or accidental damage.
The loss or damage of property may prevent your business from operating at full capacity. Under the terms of some property insurance policies, you may be able to make a claim for operating and payroll expenses. This could help you to continue to conduct business as usual while you get back to full strength.
Cyber Insurance
If you run a fencing company, a cyber-attack may be the last thing on your mind. But if you store your clients' confidential information on your computer system, you could be vulnerable to attacks. Hackers might try to harvest personal information, and the consequences can be severe.
You may need to employ professionals to find out the extent of the attack. There could be legal expenses, plus the cost of notifying your customers.
This is why cyber insurance is an integral part of a Business Owners Policy from PolicySweet®.
The Importance of Workers' Compensation Insurance
Does your business employ one or more employees? Most states require that you provide Workers' Compensation insurance. This is not included in Business Owners Policy insurance – it is a separate policy.
Requirements also vary from state to state, with some mandating it for companies with five or more employees while others require it for one or more employees. But even if it is not a requirement in your state, it can still be a valuable form of protection for your workers and for your fencing company.
How Workers' Comp Benefits Employees
If your employees get injured at work or become ill due to working conditions, Workers' Compensation is there to help provide protection for you. It may help pay for the following:
Medical expenses
Lost wages
Ongoing costs of rehabilitation
However, it's important to note that there can be exceptions to the coverage provided. If an employee does not follow safety protocols or is under the influence of drugs or alcohol at work, it could invalidate the coverage.
How Workers' Comp Benefits Businesses
Workers' Compensation insurance may protect your business from the financial ramifications of an employee injury.
It may protect you from being sued by your employees for damages as well as help to protect you from state fines. These costs could potentially impact your company and put you out of business.
Taking out Workers' Compensation insurance can give you and your employees "peace of mind". Your staff knows that they could be covered if a potential accident happens.
Fencing Company Insurance from PolicySweet
Looking for coverage to help keep your fencing company standing tall for years to come? At PolicySweet, we want to help you achieve your goal.
Our representatives can help craft insurance solutions that can meet the needs of your company. You can speak to someone by calling us at 1-800-625-8257. Alternatively, start a quote online and then check in with one of our representatives to discuss the policy in more detail.
Either way, we can help you get fence installer insurance that can provide "peace of mind" and help protect your business.