What You Need to Know About Insuring Your Landscaping Business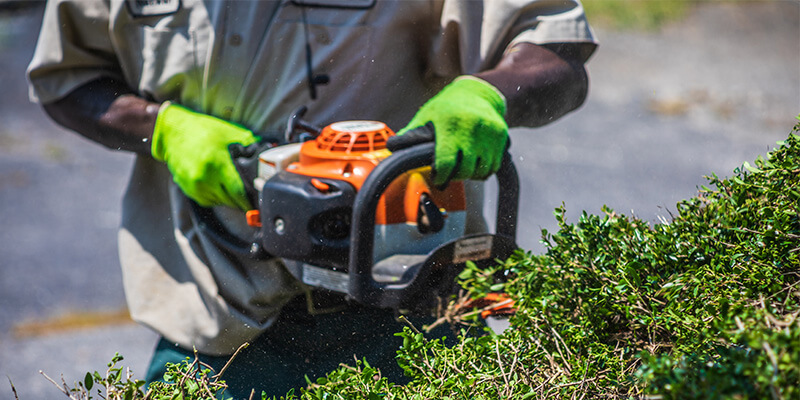 Have you been thinking about turning your landscaping business dream into a reality?
Now is the perfect time to put your love of outdoor design to work. There's plenty of opportunities for landscapers to make good money if you have a green thumb.
Of course, starting a landscaping business takes more than hanging an "Open" sign in the window. Among other things, you will need to handle a business license, marketing, and insurance. Without landscaping insurance, a single accident could have you facing financial losses that might force you to close down.
Small business insurance is considered essential and managing it can feel draining for a new business owner. But with the right policy, coverage doesn't have to be overwhelming.
One of the best starting points is a Business Owners Policy (BOP), a custom plan that combines the critical coverages for your business in a single package. We'll discuss what's included in a BOP and the different options that can help your landscaping business.
Why Do I Need a Business Owners Policy for My Landscaping Business?
A Business Owners Policy is an insurance package for businesses that have limited size and annual revenue. The main features are general liability and commercial property coverage. Together, they cover some of the most common claims an average small business may see.
At PolicySweet®, our Business Owners Policy combine general liability, property, and cyber insurance. With these core products, you'll have coverage for your modern landscaping company in a low-cost and easy-to-manage bundle. Let's explore how the different coverage areas can impact your business.
General Liability
General liability insurance can help protect you when someone gets injured by your business. If someone other than an employee slips and falls in a store, for example, your insurance could cover their medical bills. But it goes even further by helping to take care of any resulting legal fees and settlements if the person decides to sue your business.
Accident coverage is crucial for many businesses. General liability coverage can help cover several different types of injury, which can come in handy for any landscaping or service company no matter where they do business.
As a landscaper, you could be out at a client location, where one small mistake or freak accident could cause major damage. General liability can step in to help cover the costs to fix an issue. In worst-case scenarios, if you or a team member accidentally hurt someone, your coverage can help pay for their hospital bills and legal fees associated with the incident.
Along with physical injury to people and third-party property, general liability can help protect you from advertising injury claims, including:
Slander
Libel
Copyright infringement
For landscapers, having general liability coverage can also reduce the risk of losing business. Many customers demand that their landscapers have this insurance before they decide to work with them for their own peace of mind.
Commercial Property Coverage
Landscaping can have some significant start-up costs, and most of that comes down to the equipment you'll need. Between your lawnmowers, edgers, and the rest of your gardening tools, your supplies can get expensive.
If something happens to your equipment, it could be a challenge to get up and running again. You may not have the money to replace expensive items. And when you can't operate, your income can stop, making it even harder to fix the situation.
A commercial property plan can help protect your landscaping equipment from disasters, theft, and vandalism. If a fire sweeps through your business and damages your property or your equipment is stolen, your commercial property coverage could cover the cost to replace it. While your business recovers, many plans can also help take care of the lost income so you can continue paying your bills.
Cyber Liability Coverage
Do you take credit card payments? Do you have a contact form on your website? Do you store customer information digitally?
The average small business owner today would probably answer yes to some or all of these questions. If you answered yes, then you might want to consider cyber liability coverage.
Ransomware, viruses, and other malicious attacks on your computer system can put you and your customers at risk. When a breach happens, it could shut your business down for days or even months as you try to recover. On top of that, if a customer sues you, it can create financial loss for your business.
The immediate damage is costly enough, but a data breach can have long-term damage. Reputational harm that comes with a breach can impact your ability to earn and retain customers.
There's a lot of fallout and a ton of costs that can come from a data breach, and your insurer can help you handle them. They could cover costs to hire professionals to investigate the damage of your computer systems and legal fees from lawsuits. If you need to send customer notifications, your insurance could help with those expenses.
Many small businesses can't survive a data breach. With the number of attacks growing each year, you might want to consider preventing the risk with a cyber insurance plan.
Is That All the Insurance I'll Need?
A BOP gives you coverage against most issues you could encounter as a business owner of a landscaping company. But you could benefit from extra coverage options to further protect your business and employees.
Workers' Compensation
You may start your landscaping business as a one-man operation, which can be fine as you begin to build your client list. At a certain point, your business will hopefully have more customers than you can manage on your own, and you might want to take on employees.
As soon as you add your first employee, you should consider adding a Workers' Compensation plan. Workers' Compensation coverage can not only help take care of your employees when they get sick or hurt on the job, but it could also help to protect you from legal action.
Accidents happen, and one of your landscaping crew members may suffer an injury on the job. A Workers' Compensation plan could pay for their medical bills and lost wages when they can't work due to an injury.
While Workers' Compensation offers security for your team, it could help to protect you at the same time. If an employee files for Workers' Compensation, they are generally unable to sue you for more money.
Workers' Compensation is non-negotiable in almost every state if you have W2 employees. It's also crucial to have for yourself if you work under a general contractor, which could affect your ability to bid on jobs.
Get a Custom Plan for Your Landscaping Business
We know that insurance is one of the countless items on the new business checklist, and you often don't have much help when you're getting started. That's why we created our BOP to be easy to understand and customizable. We take a close look at your business needs to ensure we provide insurance for some of the most common scenarios your business could face.
If you're ready to get your landscaping business off the ground, the PolicySweet team is here to answer your insurance questions. Contact us today to learn how we make insurance simple, affordable, and pain-free.