What to Know About Workers' Comp for Plumbers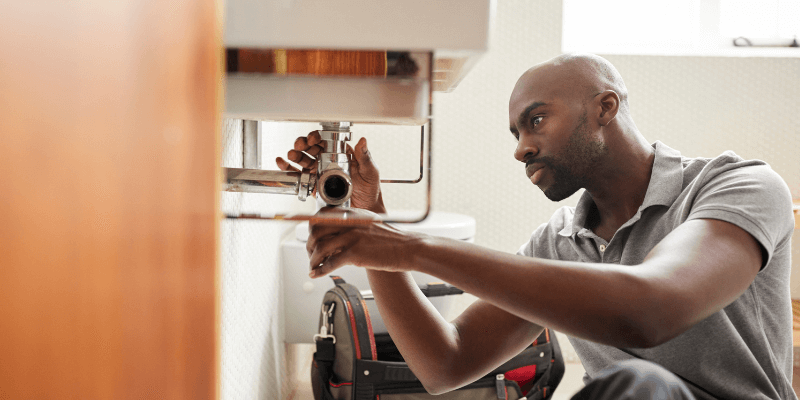 In 2021, there were 469,000 plumbing jobs in the US. While we know plumbers can fix our leaky sinks and clogged toilets, they can also face some dangers with their work.
If you employ plumbers, you might want to help protect them and your business. You can do this by getting Workers' Compensation.
Then, if they become injured on the job, not only can they get the benefits they might need, but you could also protect your business from liability.
Read on to learn more about why you should consider plumbers' Workers' Compensation insurance.
What Is Workers' Compensation?
Workers' Compensation is a particular type of insurance. It can provide coverage in the form of benefits to workers, like plumbers, who are injured on the job.
An injured worked can report the injury to their employer and seek medical treatment. The employer can then file a claim with the Workers' Compensation insurance provider.
If the claim is approved, the employee may be required to see an approved doctor and complete paperwork.
More on how the employee gets compensation later.
Why Do Plumbers Obtain Workers' Compensation?
Many employers consider obtaining Workers' Compensation because plumbers can face certain risks on the job. They could easily face an injury because of the unique demands of their role.
Most states require employers to have Workers' Compensation insurance for workers. Since plumbers face unique risks, this coverage not only helps to protect them but could also protect the business.
As a plumber, you might not want to accept a job offer from a company that doesn't have this type of coverage. You may want to know there is insurance coverage available should an accident take place.
Special Risks Facing Plumbers
Consider the work that a plumber does for a minute. They are around water, gas lines, and waste sewage, to name just a few. Considering the obstacles they face in their work can make it easy to see why insurance for plumbers can be vital.
Common injuries for plumbers might include:
Slips and falls
Suffocation
Eye injuries
Hearing damage
Heat and cold injuries
Plumbers often need to crawl around and maneuver into tight spaces to complete their work. They work with heavy tools in tight spaces. They might face sharp objects or even fall from a ladder.
Plumbers Workers' Compensation Insurance Cost
Like any insurance policy, many factors are associated with the cost of the insurance.
The type of coverage, its amounts, and the number of employees can impact the cost. The risks connected to the work could also be a factor in the cost.
As you consider cost, you want to be sure to look carefully at the coverage and exactly what could be covered, including the amount of coverage. Ask your insurer about any potential gaps in coverage.
It never makes sense to pay for more coverage than what you need. At the same time, you don't want to come up short on coverage if and when you actually need it.
We offer no-obligation quotes online or by the phone if you want to find out how much a policy could cost you.
When you seek a Workers' Compensation insurance quote, you'll likely have to answer some questions about what your workers do. You might also have to discuss the number of employees at your business.
If you like the policy terms, you can accept the quote and be insured as soon as the next day.
What Does Workers' Compensation for Plumbers Cover?
Many business owners obtain Workers' Compensation coverage for plumbers to help protect workers if they experience an injury, become ill, or have a fatality on the job.
Let's consider the coverage for an injured plumber. This might be an injury that prevents them from working for a period of time.
Workers' Compensation coverage can pay for medical treatments, including pharmacy bills, emergency room care, and medical supplies needed.
If the injured worker needs rehabilitative care from the injury, that could also be covered. For more severe injuries, Workers' Compensation can even pay to retrain a worker who can no longer perform their previous job because of an injury.
It can also protect plumbers from lost wages while unable to work. An injured worker can't be forced back to work before being cleared by a doctor. They also should not have to worry about their wages while they are recovering.
Get Workers' Comp Coverage for Plumbers
Plumber injuries are a real risk, considering the type of work they do. Getting Workers' Comp for plumbers helps to protect the worker in the event of an injury. It can also protect the employer from potential litigation.
If you're a plumber or have a plumbing business, you should consider Workers' Compensation coverage to help protect your workers. Contact us to learn more about our Workers' Compensation insurance plans for your business.