Comp Questions: 3 Workers' Comp Laws You Should Know About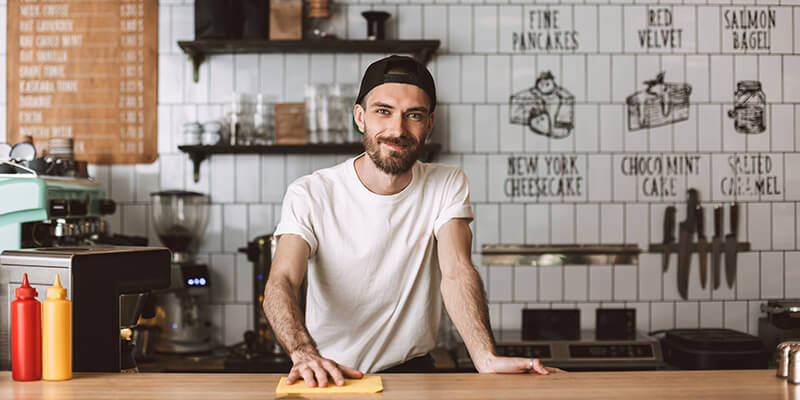 Growth is the goal for any business, but there's more to taking on employees than just saying, "You're hired!"
As a small business owner, you take on a new role as HR manager when you hire your first employee. You now have to worry about training, payroll, taxes, and Workers' Compensation insurance.
Almost every state generally requires businesses to carry Workers' Compensation coverage as soon as a certain number of employees are hired. It's a critical step in protecting your business from crippling losses, but you could also avoid severe penalties by maintaining coverage.
Workers' Comp is essential, but it isn't always straightforward. We'll help clarify this vital coverage by looking at three essential laws you should know about.
Three Workers' Comp Laws to Know
Workers' Compensation laws are set at the state level. Each state has unique rules around how they handle different aspects of Workers' Compensation insurance. Three state Workers' Comp laws you need to know are:
Who can administer insurance (government, commercial insurance companies)
How many employees a business must have before needing Workers' Comp coverage
Who qualifies as a covered employee
Obtaining insurance is usually possible through commercial providers, whereas some states offer state-administered Workers' Comp plans with no commercial options allowed. Washington, North Dakota, Ohio, and Wyoming fall into the category of states that exclusively offer only state Workers' Comp plans.
To learn more about each state's regulations, you can use this NFIB resource as a starting point.
Who Needs Coverage
Many states require you to obtain Workers' Compensation as soon as you take on your first employee. Other states like Alabama and Mississippi require insurance if you have five or more employees.
Full-time employees receive coverage in nearly every state once the business meets a minimum staffing level. But certain states include part-time, temporary, or contract employees in their count as well.
States often have industry-specific exceptions to their insurance demands. Common employment categories with special Workers' Comp rules include:
Construction
Agriculture and horticulture
Real estate
For example, in Texas, construction companies that contract with the government are required to have Workers' Comp. There may also be a minimum income amount that a worker has to earn annually before becoming a qualified employee.
Fines and Penalties
Most states are strict about enforcing their Workers' Comp laws. In most cases, you can face several months of prison time and thousands of dollars in fines if you don't have Workers' Comp insurance.
If you don't have insurance, fines will vary widely depending on what state you operate in. California Workers' Comp laws, for example, start at $10,000 and allow for up to $100,000 in fines if you don't have the right insurance. Meanwhile, Florida Workers' Comp laws carry fines starting at $1,000.
In many states, the fine accompanies either a misdemeanor or felony charge. When you're caught without insurance in Pennsylvania, you could face a third-degree felony and up to seven years of jail time.
What Rights Do Employees Have in Workers' Comp Cases?
Employees covered under Workers' Compensation have a right to benefits for several expenses stemming from a work-related injury, including:
Doctor visits, treatment, and hospital stays
Disability payments
Missed wages
Employees must notify their employer after they are injured on the job. States differ in how much time they allow employees to report an injury, with most allowing 30 days from the date of the incident. If an injured employee doesn't inform you, they may not be able to file a claim.
When an employee settles a claim, that is often the end of the Workers' Comp case. But in some states, worsening conditions may allow workers to seek more help after their initial claim is closed. It's often helpful for employees to reach out to their insurance provider to understand the claims process.
How Should an Employer Handle a Workers' Comp Claim?
No matter what state you live in, it's crucial to purchase Workers' Compensation insurance as soon as you start taking on employees. Even if Workers' Comp isn't required, employees can still seek damages from an injury, resulting in losses for your business.
The average cost of a Workers' Compensation lost time claim is roughly $42,000. That's a hefty sum for a single accident. All it takes is one unforeseen incident to suddenly put a business in jeopardy.
When dealing with a claim, you need to stay responsive, understanding, and accommodating. The goal is to avoid financial liability and expedite recovery.
If any injury is reported to you, it's crucial to follow these essential steps:
Check where the injury happened and fix any issues to help prevent another injury from occurring
Supply an incident report for your employee
Inform your employee of the claim process and benefits
Promptly file the necessary paperwork with your insurance carrier
Establish a return-to-work timeline and make accommodations
By staying attentive and providing the necessary paperwork to your employee, you could allow for a quick resolution and could come out of the incident with a positive relationship between you and your employee.
Preventing Workers' Comp Claims
Taking proactive measures to help prevent workplace injury is essential. These basic steps could reduce the likelihood of an injury from happening:
Train employees on injury/illness prevention
Keep cleaning supplies stocked and accessible
Remove clutter and trip hazards
Outfit the workplace with safety measures (e.g. footpath markers, rugs, railings, proper lighting)
Perform regular workplace inspections and fix safety issues
Making these considerations part of your routine will ensure your workers stay safe and could minimize the risk of work disruption.
Protect Your Employees, Protect Your Business
Workers' Compensation plans are a win for everyone involved. With Workers' Compensation, you and your employees may be able to have peace of mind knowing that unexpected workplace injuries could be covered.
Taking on employees can make your job easier but getting them onboarded takes a lot of work. We know you've got a lot to handle, so we've made it quicker and easier to sign up for Workers' Comp. Get started on a quote today to see how much you can save.