Bakery Insurance: What You Need to Know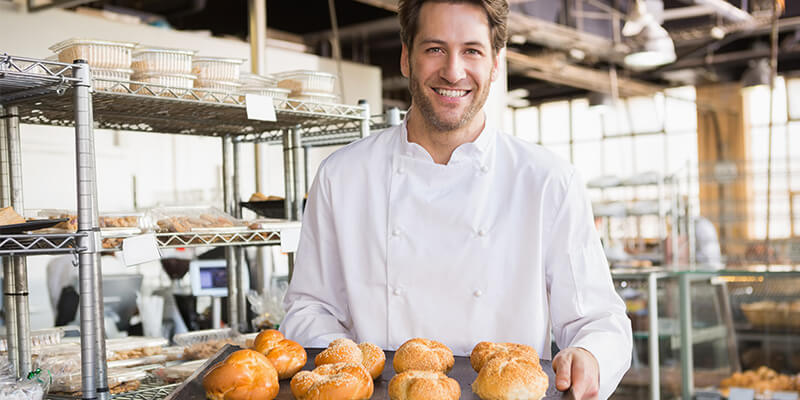 Minor accidents can threaten any small business, which is why insurance should be one of your main priorities when you're starting a bakery. But with all of the ways that a business can be at risk, it's hard to know exactly what you need.
If you're not sure where you'll get the most value, we'll walk you through the different insurance options for bakeries.
What Kind of Bakery Insurance Do I Need?
Your bakery insurance coverage needs and insurance costs will change depending on various factors like your location, size, and services. But whether you plan on starting a bakery from home or a large wholesale operation, there are several common insurance options that every baking business should use.
General Liability Insurance
The foundation for any small business insurance plan is general liability. With this coverage, your business is protected if it causes injury to someone. In the case of general liability, injury can mean several things, including:
Physical injury
Property damage
Copyright infringement
Advertising or reputational injury
When a claim is made, your insurance can cover medical bills, property replacement, or any other expenses resulting from third-party damage caused by your business.
In many general liability cases, the injured party can also sue for damages. Your insurance may cover the costs of your legal defense and settlement up to a certain dollar amount.
Commercial Property Insurance
Commercial property insurance takes care of your business equipment if it gets lost or damaged due to forces outside your control. Some of the common causes of property insurance claims include:
Fire
Wind and hail
Lightning
Theft
Vandalism
Your commercial property insurance can cover lost inventory and expenses related to damaged equipment. It will also reimburse you for lost income if your business operations are impacted.
It's estimated that 40% of small businesses will face a general liability or commercial property claim over 10 years. The high risk makes a Business Owners Policy appealing.
A Business Owners Policy typically combines general liability and commercial property coverage in a cost-effective business insurance package. But at PolicySweet®, we take our Business Owners Policy a step further by adding cyber liability, an area that is likely to continue to grow in importance in the future.
Cyber Liability Insurance
Data breaches aren't limited to major corporations. Over 60% of small and medium-sized businesses dealt with a cyber threat in the past year alone.
As small businesses rely more and more on digital information technology to run their operations, protection from attacks becomes crucial. If you want to take credit card payments, store customer information, or communicate through e-mail, you may want to consider cyber liability insurance.
It can help to cover the cost of hiring professionals to determine the cause if your computer system is compromised from a targeted or accidental attack, and it could help protect you from customer action. If you are sued because your customer database was hacked, your insurance could cover the cost of legal fees.
Workers' Compensation
General liability, property, and cyber risk insurance are the three big coverages included in PolicySweet's Business Owners Policy, but you don't have to stop there for coverage. Workers' Compensation can help to protect your employees.
In most states, Workers' Compensation is required as soon as you take on a certain number of W2 employees. But even if it not required, we still recommend Workers' Compensation as valuable protection for both employees and employers.
Workers' Compensation can help to cover medical bills, lost wages, and other costs if an employee suffers from an on-the-job accident. From an employer standpoint, it's a great benefit to offer your employees as it can help to provide them peace of mind to know they may be taken care while they recover. It can also help protect your business from the impact of being sued, as employees typically can't seek additional damages if they make a Workers' Comp claim.
Get Your Bakery Insurance Quote Today
You've got a lot to juggle when you're trying to open your bakery, and insurance can feel like a complicated, time-consuming chore. That's why a Business Owners Policy and Workers' Compensation coverage from PolicySweet can be an ideal fit for entrepreneurs trying to do it all. These convenient and comprehensive bakery insurance packages can help make the process of purchasing insurance easy, saving you time and effort so you can focus more on what you love.
If you're interested in learning more about cost-effective insurance for your bakery, it's time to talk to the experts at PolicySweet. Contact us today to get a customized quote.