A Guide to Insuring Your Coffee Shop Business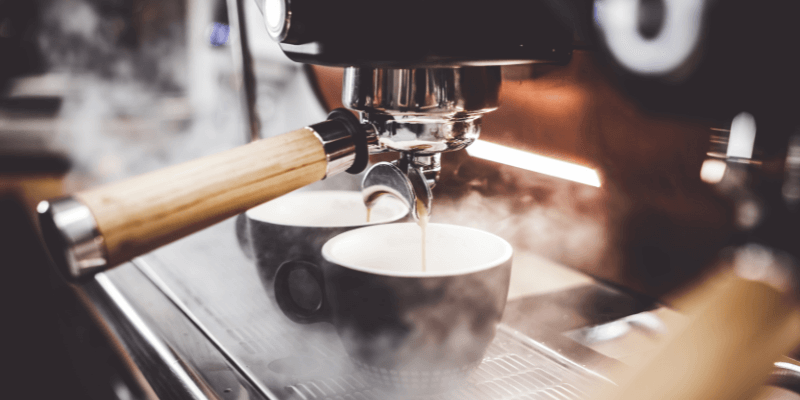 Are you starting a coffee shop business in the US? It could have the potential for great success, with one-quarter of American adults drinking coffee, consuming an average of two cups a day. However, several factors can make or break your success, including the insurance you choose.
Selling coffee does not come without challenges and insurance for coffee shops can sometimes be overlooked. After all, focusing on marketing, sourcing different types of coffee, staffing, and design can trump insurance in terms of excitement.
But if you want to help ensure your business thrives, grab a coffee and read this guide for what you should know about insuring your coffee shop business.
Why Your Coffee Shop Should Consider Insurance
There are many reasons why your coffee shop business should consider insurance coverage. You want to help protect yourself, your business, and your hard work with coverage should an issue arise. Potential risks that can occur include:
Slips and falls
Employee injuries
Data breaches
Property damage
Robberies
Falls and other accidents are common in public spaces, with 800,000 falls requiring hospitalization annually. Accidents happen no matter how hard you work but this doesn't mean you have to foot expensive legal and medical bills.
Customers may trip on a chair, a shelf may fall down, or an employee may fall while working. Insurance coverage can help protect your customers and employees.
You may also want to protect your property from damage and breaches, such as robberies. Without sufficient coverage, you could be impacted financially and could risk damaging your reputation.
By the fifth year of operating, around 70% of small businesses have failed. There are different causes for business closure, including failure to have adequate coffee shop insurance coverage. You should check the laws and regulations in your state in case your business requires specific coverage.
Types of Insurance To Consider
It can feel overwhelming to know where to begin with coffee shop insurance. When it comes to insurance for coffee shops, there are several options to consider. Take the time to do a risk assessment for your coffee shop to determine what policies or types of coverage you might need.
General Liability Insurance
General liability insurance is considered essential for most types of businesses, as it can protect you if you are sued. It could help ensure you are covered for third-party property damage or bodily injury. It also typically covers associated costs, such as medical payments, legal defense, and expenses for repairs or replacements.
The cost of general liability insurance can depend on several factors, such as your location, industry, and history of claims. It can be essential to check your specific general liability policy to determine what is covered for your coffee shop.
Business Property Insurance
You may also want to ensure you have adequate coverage for your property. There are a variety of business property damages that can occur. Help reduce the risk of damaged property and expensive repair costs by getting business property insurance.
This type of policy typically covers you for property damage, such as damage to furniture, fixtures, equipment, and tools. It can also provide coverage if your business items are stolen.
Workers' Compensation Insurance
Workers' Compensation is also known as Workers' Comp. You should check your state requirements, as many states insist that you have this type of coverage if you employ workers. Workers' Comp can help protect the finances of your business.
If an employee is injured on the job, their medical bills could be covered. This coverage can also offer lost wages such as when an employee cannot return to work due to their injuries.
Cyber Risk Insurance
Small businesses are more at risk than ever from cyber-attacks. Your coffee shop company should think about cyber risk coverage, if you deal with online payments, utilize a social media platform, or own a website.
There is a multitude of cyber risks that can occur, leading to data breaches. Cyber risk insurance can protect your business from the impact of data loss, corruption, and damage. This can help prevent reputational damage and expensive investigative costs.
Tips For Your Coffee Shop Business
So, where do you begin when it comes to buying insurance? One of the best options is to buy a package that includes common coverages for your coffee shop business. For example, a Business Owners Policy (BOP) includes multiple coverages:
General Liability Insurance
Property Insurance
Cyber Risk Insurance
This can be a way to simplify how you insure your coffee shop company. You may not have to worry about finding coverage from different insurers when you purchase an insurance package that can cover your business needs.
When purchasing a Business Owners Policy, it is important to pick a reputable insurance provider. Not all BOPs offer the same coverage, support, and quality, so take the time to find the best option for your business. You may want to look for an insurer with these traits:
Experience working with small businesses
Positive customer reviews and testimonials
You should look for an insurance provider that has experience supporting businesses like yours. You might want to check their reviews to see if they match their promises. It can also be important to know if they offer a dedicated customer service team that you can contact if you need to.
Fees should be transparent, and you should understand what your policy could cover. Taking the time to find an insurance provider that understands your business can help ensure you get the coffee shop business insurance you are looking for.
Find Coffee Shop Business Insurance
Now you know the importance of coffee shop business insurance and finding the right insurer for your needs. So, how do you go about buying insurance?
At PolicySweet®, we have simplified the process of purchasing business insurance through our instant online quote tool. You will first answer some questions about your business, then you will receive an instant quote, and from here, you can decide whether to accept the coverage or not. If you decide to accept the terms of the policy, your coffee shop company can be covered as soon as the next business day!
We offer customizable coverage, fast quotes, and dedicated customer service for your business insurance needs. Get a quote today to get started.