Opening a Coffee Shop: What You Need to Know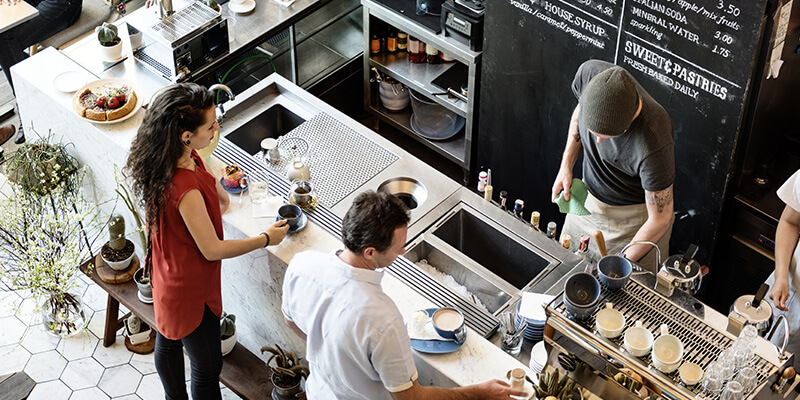 There are over 35,000 coffee shops in the United States — Americans love coffee. But coffee shops aren't just places where people get their cup of joe; coffee shops, historically, are places that breed conversation, an appreciation of the arts, and a location where people can do work outside their house or office.
Opening a coffee shop can be a challenging venture for a small business owner. But starting any type of small business is never easy. You may want to research coffee shop businesses that have succeeded in the past before you get started.
If you are looking for tips about opening a coffee shop, this article can help. We will walk you through steps to help you create a memorable coffee shop that customers want to come back to.
Establish Your Goals
Businesses run on goals — that is why most great businesses have a manifesto. Figure out what your goals are, so you have a better understanding of what you want to achieve when opening a coffee shop.
If you are looking to quickly make money, you may want to consider a franchise opportunity. Most franchises have a unique company culture and atmosphere. You most likely will not have to worry about branding or marketing your business as much as if you were to start a business from scratch since most franchises already have brand recognition and will market the business on your behalf.
However, depending on the franchise, you can pay $10,000 or more. You may only want to consider this option if you are ready to put serious money down and willing to share some of your profits to the franchise company if your agreements require you to do so.
Someone looking to create their own unique business should think about starting a coffee shop from scratch. While it could cost more time and money to build, you can completely run with your own ideas. This may be a great idea for any ambitious businessperson that is looking to open a coffee shop and really make it their own.
Someone in between these two ideals can choose an old coffee shop, or current shop that's being sold. You could take it over, and re-brand it. This option could come with a space that does not need to be reconfigured for a coffee shop and may even have equipment ready for you to use. You may also still be allowed a certain degree of customization to put your unique spin on the business.
You may want to research different types of structures if you're a first-time business owner. You should make sure that your business is protected with the legal structure you feel most comfortable with.
Write a Business Plan
Once you have established goals for your business and completed some legal work, you are on your way to opening the coffee shop of your dreams. Search online for a business plan template and figure out just how much it's going to cost to build out your place, what you're paying in rent every month, what it's going to cost to get all your coffee and equipment, and what your projected profit margins are.
Location, Location, Location
If you are looking to reach a large range of customers, the location of your business is extremely important. A location can contribute to the number of people that visit your business. If you are in a crowded area, you are more likely to have several people visit your store compared to if you are in a remote location.
It is important to figure out who your target market is as well. Is your business idea a throwback coffee shop with pictures of Dean Martin and Jerry Lewis on the wall? Then you probably won't need to worry about attracting too many young people. Is your coffee shop focused on booking local bands and poets to create a vibrant culture? If so, you may not need to account for older customers.
The location of your coffee shop largely depends on where the specific people in your target demographic gather. If you're set up right next to a high school, your main customers will most likely be high school students and teachers. If you are planning to reach a different type of customer, you may want to rethink your coffee shop location.
Consider Your Resources
Make sure your resources are top-notch for your business model. Analyze various brewing methods (paper filter, cloth filter, French press, pour-over, drip), and familiarize yourself with many different types of coffee.
Some of the best coffee shops select a signature coffee flavor every month. You could consider doing something similar at your coffee shop. You could also make the coffee beans available to your customers for purchase.
Figure out which flavors you're going for based on the experience you want to create. Coffee from different parts of the world will taste different. Understand which espressos are best for which espresso drinks.
Make sure you train your employees about different types of coffee and coffee drinks. They should be able to answer customers' questions, which could encourage those customers to come back if your staff is knowledgeable about coffee.
Identify what other items you might need for your business, such as Workers' Compensation insurance. Workers' Compensation is legally required in some states. It could also help to attract skilled employees if they know they may be covered for work-related injuries while on the job.
Make Your Menu
Your menu could help you win some customers. Make sure you find the perfect balance: you want to have enough items on your menu to keep people satisfied, but not so many that you struggle to remember some of the recipes.
What do you serve other than coffee at your coffee shop? Will you have pastries available? Healthy snacks? Or will you serve sandwiches and salads — small dishes that are capable of being made quickly, but can still satisfy someone if they want to stay through lunch?
It could be worthwhile to invest in some sandwich materials. Customers who come before lunch could stay, order a sandwich from you, and even order some more coffee.
Many coffee shops make a profit by selling tea as well. Any of your baristas can easily pop a tea bag into a cup and serve it to your customers.
Or, you can train your employees to make great tea drinks, such as a chai latte. The possibilities are endless — what will your customers want to consume?
Design Your Menu
After you figure out the contents of your menu, you should determine the design and presentation of the menu. How will you communicate what you have available to your customers?
A big board style menu is a staple of coffee shops. Consider using a large chalkboard above your counter to communicate your menu items. Make sure that the color, font, layout, and presentation go with the aesthetic of your business; you might even consider putting some drawings on your menu.
It could come in handy to keep a laminated copy of your menu on a piece of paper by the counter. This way, people have options. If they feel overwhelmed by the main menu, they can easily pick up another in their hands; customers love having options!
You could consider spending a little money and have someone write your menu out in wonderful calligraphy. If they use the right materials, you may not need to worry about it getting erased. They can use a different color for titles, prices, and descriptions.
Cultivate an Atmosphere
As stated earlier one of the most important parts of a coffee shop is the atmosphere. Atmosphere comes from people; however, you can attract the right people with the right elements.
Based on your customer base, consider the music that you play in your coffee shop. If you are aiming at generation X and Baby Boomers, you are probably safe to stick with an old-school radio station. However, if you're looking to snag the youth, you may have to get more creative.
Often, people today look to get challenged and pushed with their music tastes to discover new unknown artists. The introduction of music streaming platforms like Spotify and Pandora has made it easier to select and hear new music. You may also want to hire someone with good, contemporary music taste and give them free rein over the speaker.
Consider adding variety to your seating options. A bar is great if you want to create a working atmosphere since people will feel comfortable sitting there alone. This could work well if you pair it with free Wi-Fi.
You could have some tables that seat two, and others that seat four. Consider adding a special table with armchairs, to give a unique feel to one side of the shop. You might even want to add beanbags or sofas.
Consider the X-Factors
As with all businesses, you have to optimize your business strategy in order to keep customers engaged.
Unique gimmicks can do wonders to attracting customers. Determine what your differentiating factor is that sets you apart from your competition.
People might flock to your coffee shop if you have a deck of cards and some board games lying around. You can also attract people by serving alcoholic coffee drinks on certain nights of the week and holding coffee tastings.
Make sure you also understand the most common food and beverage accidents. Getting a reputation as an unsafe company can damage your customer base.
Opening a Coffeeshop Is Possible
As you can see, opening a coffee shop requires a lot of work, but it's not impossible. Make sure that you set goals, write a business plan, figure out your location, gather your resources, make and design a menu, cultivate an atmosphere, and consider random variables so that you are more likely to succeed.
Every business owner should consider insurance to help protect their business. If you're looking to get started, contact us today.