How to Start an Appliance Repair Business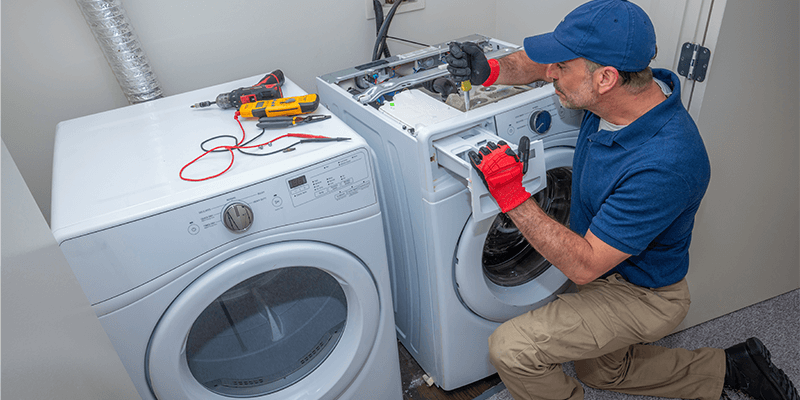 Did you know that the appliance repair market in the U.S. is expected to grow by at least 8 percent by 2030? That's a lot of money up for grabs, and it's no wonder that so many people are interested in starting an appliance repair business.
Appliance repair businesses are typically in demand because, let's face it, appliances break down. And when they do, people want them repaired and working again fast. That's where you come in! As an appliance repair technician, you can help people extend the life of their appliances and avoid the expense of buying new ones.
But before you can start your business, there are a few things you need to know. Let's get started!
Research the Appliance Repair Business
Before you start your own appliance repair business, it's essential to do your own research. The first step is to determine what type of license and insurance you'll need to operate legally. You also should decide what you want to focus on: repairing a specific type of appliance or offering a general repair service.
Get Certified and Trained
Many people don't know how to safely or properly fix their appliances and want to hire a trained professional to do it for them.
If you're considering getting into appliance repair, the first step is getting certified and trained. There are several options to help you do this, but easily the most important thing is to ensure that you're getting the proper education and training for the job. Some great options for training are:
Repairing an Appliance Yourself
This is a fantastic way to learn the ropes and get hands-on experience. Few things will teach you faster than actually doing the work. Just be sure that you're following all safety precautions.
Online Appliance Repair Courses
These courses can be found on many different websites and are often very affordable. They'll give you the basics of appliance repair so that you can hit the ground running.
Formal Appliance Repair Training
If you want a more comprehensive education, you can enroll in a formal appliance repair training program. These programs will often last several weeks or months, giving you some of the skills you need to start your own appliance repair business.
And some certifications you will need or should consider include:
EPA 608 Certification
If you're planning to work with refrigerants, The Environmental Protection Agency (EPA) requires that all appliance repair technicians be certified.
Create a Business Plan
Now that you've got the training and certifications, it's time to start developing a business plan. This is a fundamental step in starting any business and could help you get organized and focused on your goals.
There are a few key things that you'll need to include in your appliance repair business plan:
A description of your business and its services
Your target market and how you plan to reach them
A competitive analysis of the appliance repair industry
A marketing plan
A financial plan
Once you've got all this information down on paper, you might have a better idea of what you need to do to get your appliance repair business up and running.
Get the Right Insurance
No matter what business you're starting, having the right insurance could be essential. It could protect you and your business in case something goes wrong.
There are a few different types of insurance that you should consider for your appliance repair business:
General Liability Insurance: This could cover you if someone is injured while on your property or if you damage someone's property.
Business Property Insurance: This helps to cover any damage to your business property, like your tools and equipment.
Business Interruption Insurance: This helps to cover lost income if your business has to shut down for any reason mentioned in your policy documents.
Bundle
Another great option is to bundle. Check out our Business Owners Policy, or BOP.
A Business Owners Policy is a commercial insurance policy that bundles multiple coverages together. It can help protect business owners against several risks.
A BOP typically includes general liability, and property insurance. We've included cyber coverage in our Business Owners Policy to help provide additional coverage to business owners. By bundling these key coverages into one policy, a BOP can be a convenient and cost-effective way for businesses to insure themselves against multiple risks.
Talk to an insurance agent to learn more about what coverages you need for your appliance repair business. They'll be able to help you get the right policy at the right price for your business.
Marketing Your Appliance Business
The next step is to start actively marketing your appliance repair business. There are a few different ways to do this, but the most important thing is to make sure that you're reaching your target market. Some great marketing strategies for appliance repair businesses include:
Print advertising in local newspapers and magazines
Listing your business in online directories
Creating a website and using search engine optimization
Using social media to reach potential customers
Running promotions and discounts
Home Appliance Repair Business Cards
Appliance repair businesses should consider business cards. Why? Because appliance repair is one of those services, people usually don't think about it until they need it.
And when they need appliance repair, they're going to want to be able to find a reputable technician quickly. That's where your business card comes in. So, keep a few on you at all times so you can hand them out when the opportunity arises.
Start Your Appliance Repair Business Today!
Now that you know how to start an appliance repair business, it's time to get started. Use the tips and information in this article to help get your business up and running. And before you know it, you could be helping people keep their homes running smoothly.
If you're ready to start an appliance repair business, the PolicySweet® team can help. We offer a variety of insurance products that are perfect for companies in this industry, and we can get you the coverage you need to help protect your business and your employees.
Our team is experienced in helping businesses like yours get started, and we're here to answer any questions you have. Contact us today to get started. We look forward to hearing from you!