An Overview of Workers' Compensation Insurance for Barbers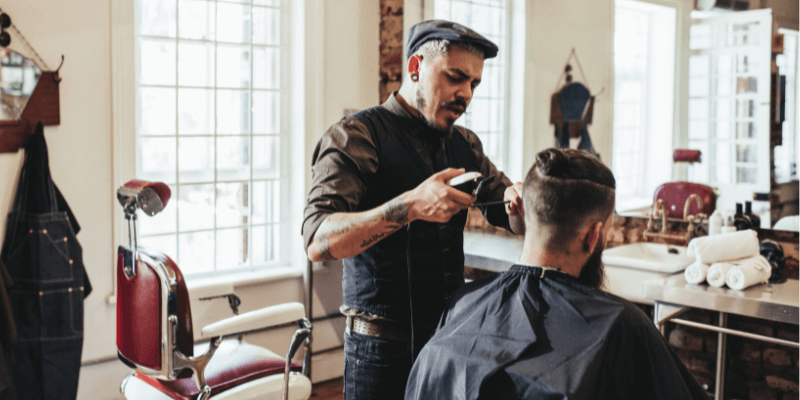 Barbershops are a popular choice for entrepreneurs with experience in the hair care industry. As an independent business owner, you should take necessary steps to help protect yourself and your income. That could include obtaining insurance coverage.
Will you be able to cover the costs of injuries your employees sustain on the job? A Workers' Compensation insurance policy could help cover you and your employees.
Be sure to weigh the costs as well as the pros and cons of each type of insurance coverage before you pick a plan. Here are a few factors to consider before you buy Workers' Comp insurance.
What Is Workers' Compensation Insurance for Barbers?
Suppose you're a barbershop owner, and an employee gets hurt while on the job. A Workers' Compensation insurance policy can help with medical costs. It can help cover medical bills, rehabilitation, and lost wages resulting from the injury.
For a barbershop owner, Workers' Compensation can help protect you, too. The coverage can help protect you from out-of-pocket expenses related to injuries if your employees get hurt in the workplace.
The purpose is to help business owners avoid huge financial losses, in the case of an accident occurring in the workplace.
Is Workers' Compensation Insurance for Contractors?
State laws have specific rules about who's covered by Workers' Compensation insurance. If you own a barbershop, you may not need to provide Workers' Compensation insurance coverage for the following people:
Contract employees
Self-employed
Vendors
You should always check with your state department that oversees Workers' Comp regulations, if you think other employees are exempt from Workers' Comp coverage.
Other Insurance Barbers Should Consider
Since barbers are considered self-employed individuals, you may wonder what happens if there are other injuries or damages in the barbershop.
Protecting yourself and your clients while providing quality hair care services can be crucial. Having other types of business insurance is something to consider.
There are other types of insurance a barber can buy to help protect themselves and their business. They include the following:
Cyber-risk Insurance
Home-based Business Insurance
It might not matter if a barber works in a rented space or owns a barbershop. They might still need protection.
General Liability Insurance
General liability insurance, also known as commercial general liability insurance (CGL) can help provide protection from claims like the following:
Third-party bodily injury
Third-party property damage
Third-party Bodily Injury
Accidents can occur anywhere, and barbershops are not excluded. Injuries can occur in a barbershop because barbers use sharp tools, water, and sometimes chemicals.
A client could slip and fall on water not cleaned up after a shampoo service. Although it wasn't intentional, the incident could lead to a bodily injury claim.
Third-Party Property Damage
Third-party property damage can cover your business for damages related to the property of someone in your barbershop, that is not an employee.
Let's say your client has an expensive designer handbag. They ask you to place it in a secure spot. You place the bag in a cabinet reserved for moments like this one.
Unknown to you, someone has placed an unopened container with a hair solution inside the cabinet as well. It overturns and damages the handbag. The client can sue you for the damage related to the handbag.
You may want to discuss your business's exposure to different liabilities with an insurance representative or agent.
Property Insurance
Business property insurance helps to protect your many business items. Furnishings, equipment, supplies, and also income could be covered if you ever have to close down because of a claim. This insurance can help protect business assets in an unexpected accident or tragedy, like a fire, a theft, or a storm.
Cyber-Risk Insurance
Barbers today are more tech-savvy than they were twenty years ago. Today, they are incorporating technology that can help them become more efficient. They may use Customer Relationship Management software and booking apps to help schedule appointments and receive payments.
Cyber insurance usually covers expenses if there's a data leak involving sensitive customer info. Personal information like Social Security Numbers, credit card info, account info, driver's license, and other sensitive data. It can help cover notification expenses and investigation costs.
Home-based Business Insurance
Barbers aren't tied to commercial spaces like other businesses. In some states, a barber can operate out of their home. This is where home-based business coverage like HomeHQSM can come into play.
It's designed to help protect your home business and its assets. Renters and homeowners insurance might not cover business liabilities in a home.
Do You Need Business Insurance?
If you have employees working in your barbershop, you may want to consider Workers' Compensation insurance. PolicySweet® can also insure other aspects of your business. We can help protect your barbershop from third-party claims, the impact of cyber-attacks, as well as damage to your business property.
Get a quote today to see how PolicySweet can protect your barbershop business.