What Kind of Insurance Does a Barbershop Need?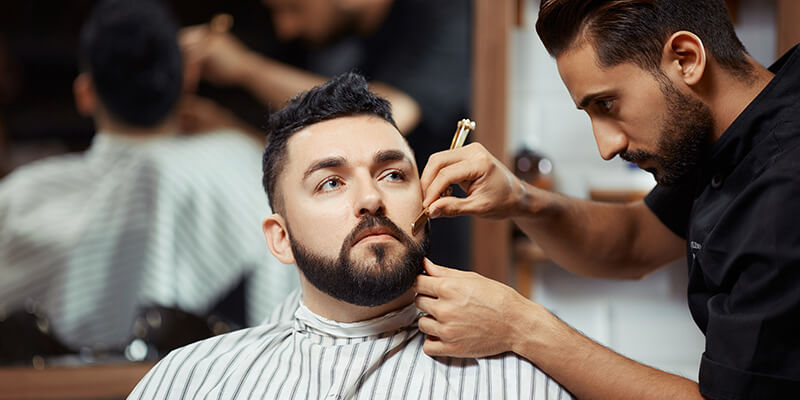 Most people wouldn't think of a barbershop as a dangerous place full of risk and liability. However, every business owner should prepare for the worst. Barbershop insurance is one of the best ways to financially prepare for damages that could come about due to an accident or otherwise.
What kind of insurance policy does a barbershop need, though? Not all business locations require the same type of insurance, as it'll depend on how you operate.
Here are some of the different kinds of small business barbershop insurance options you might want to consider.
Why Do You Need Barbershop Insurance?
First, you need to understand why exactly you may need barbershop insurance and what kind of risks could pop up in your daily operations.
Barbershops aren't typically known as dangerous places to walk into or work at. However, barbers often deal with slippery floors, squirming kids, and other potential accidents.
Additionally, there are a lot of electronics plugged in at a barbershop. It's possible to overload electrical plugs and create a fire hazard as a result. A customer may trip over cords and injure themselves.
If a client gets hurt on your property, that leaves your business liable for a lawsuit.
Purchasing insurance won't eliminate all of these issues, but it could alleviate some of the financial burdens when accidents happen.
General Liability Insurance
General liability insurance covers yourself and your business from more general claims involving injury or damages. Due to the nature of these policies, almost every business could need general liability coverage at some point.
More specifically, a general liability policy could help protect your business for claims made against it from customers and clients. These claims include bodily injury as well as damage to their property as a result of visiting your business.
However, this type of policy does not cover employee injuries.
Workers' Compensation
Workers' Compensation insurance, or Workers' Comp, can protect employees from injuries on the job. It could help protect the employer from potential lawsuits and provide a safety net for employees who find themselves unable to work after an accident.
It can provide coverage to help an employee pay for medical expenses and rehabilitation. Some of the medical expenses it can cover include physical therapy, medication, hospital stays, and other medical fees.
What Workers' Compensation does not cover includes intentional injuries or injuries received outside of work. Employee injuries are also not covered if they did not follow proper protocol when handling equipment or were under the influence of drugs or alcohol at the time of an injury.
Commercial Property Insurance
Owning expensive tools and equipment is a big investment for any business owner. It could allow your business to increase productivity or become more efficient. The only problem is that you're now responsible for any types of damage it sustains.
Fire damage alone can be costly for a business. There's also the matter of replacing whatever equipment was destroyed in the fire, as well as the suspension of service while repairs are done.
Commercial property coverage could cover perils such as fire, theft, and natural disaster. Since your business is open to all kinds of potential clients and customers, it's only natural to want some form of protection if items go missing.
Cyber Insurance
Most people only consider physical concerns when it comes to getting insurance, like bodily injuries and property damage. However, the increasing reliance on the internet has also introduced cyber threats into the equation.
More companies than ever before storing their data online, but not all of them have the necessary protection.
Cyber insurance can help protect companies from losses related to a computer-based attack. For a barbershop, it could help cover expenses if your business is impacted by stolen customer information such as credit card numbers and phone numbers. It also could help if a data breach damages your computer systems or puts information of your employees at risk.
Business Owners Policy
If you're unsure what kinds of coverage you should get, consider getting a BOP.
A BOP, or Business Owners Policy, is a package designed to help protect owners from different risks. It provides key coverages that almost every barbershop owner might need at some point.
Three of the major types of coverage in a BOP including general liability insurance, property insurance, and cyber risk insurance. You can customize your coverage for your specific needs and get a quick quote by the next day with PolicySweet®.
Home-Based Business Insurance
Not every barber can afford a dedicated commercial space to run their business. Some prefer to work in the comfort and security of their own homes, instead of renting out a chair on another person's property.
The biggest problem is that most insurances are designed around protecting business locations on a property that has been zoned appropriately. A barber business that runs out of your home may not need all the same protections as one located on a commercial property.
HomeHQSM was specifically created to combine insurance for liability, business property, and inventory into one package for businesses that operate from a residential location. You could save a lot of time purchasing a HomeHQ policy since you won't have to search for multiple, individual coverages.
Cut Hair With Less Worries
A barbershop is supposed to represent a safe space where you can socialize and get a clean cut all at once. The last thing a barber wants to do is worry about how to pay for damages or afford a lawyer if they get sued. Barbershop insurance can be essential for "peace of mind".
PolicySweet can help you find affordable insurance for your small business online. Tell us about your business, and we will walk you through the process of purchasing insurance.
Contact us to learn more or to get an instant quote for your business.