BOP Coverage for Your Bagel Shop: What to Know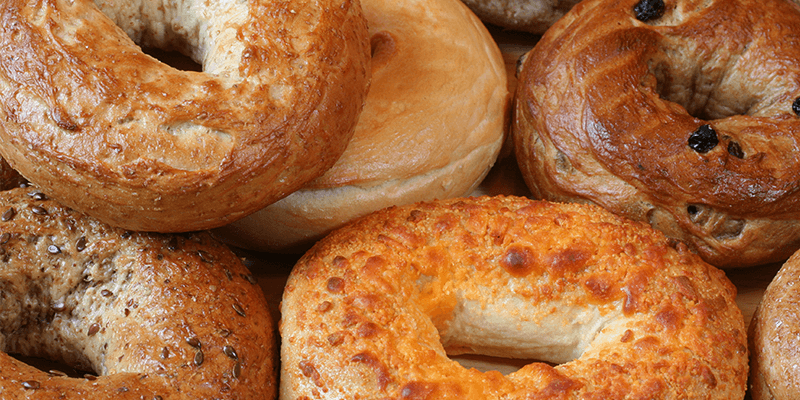 As a bagel shop owner, no doubt you're passionate about the food you serve. You've worked hard to build your brand, train your staff, and create a warm ambiance in your shop.
But here's something you may not have given as much thought to: your business insurance.
The truth is that 75% of US businesses are underinsured by 40% or more. No matter how big (or small) your bagel shop is, there are some mandatory insurance policies for business owners you should know about.
Fortunately, it can be easy to get the coverage you need through a Business Owners Policy, or BOP. Keep reading to learn what you should know about BOP coverage for your bagel shop.
What Is a Business Owners Policy (BOP)?
When you first bought the property or signed the lease to open your bagel shop, you likely needed general liability insurance to complete the paperwork. You may also have needed to show proof of other types of coverage.
While it is possible to buy individual policies to help protect your business, it's often better to get a commercial insurance "package" that includes some of the most essential policies.
This is what you can get with BOP coverage from PolicySweet®. It includes:
Rather than paying for three separate policies, everything gets bundled into one easy to manage policy. Most importantly, you might be able to rest easy at night knowing that some of the threats to your business could be covered.
What Does BOP Coverage Include?
With that overview in mind, let's take a closer look at the three types of coverage included with a Business Owners Policy.
General Liability Coverage
As its name suggests, this policy could cover an array of claims that could come against your business. You might also hear it referred to as commercial liability insurance or business liability insurance.
Some of the most common types of claims that fall into this category are bodily injuries and third-party property damage. As an example, imagine a customer who slips, falls, and injures themselves in your bagel shop. General liability insurance could cover medical bills and legal fees associated with their claim.
This coverage could also help your business in the event of slander, libel, or reputational harm.
Property Insurance
The second part of a Business Owners Policy is property insurance for your business assets. This might include:
Inventory
Furnishings
Appliances
Fixtures
Tools & equipment
If your business property gets stolen, damaged, or destroyed, BOP coverage may help cover the costs of repairing or replacing it. It could also help with payroll expenses as well as loss of income if you're forced to alter your business operations.
Cyber Risk Insurance
When you're busy serving amazing bagels and coffee, the threat of cybercrime is probably the farthest thing from your mind. However, thousands of small businesses fall victim to attacks every year, and the costs can quickly spiral out of control.
For example, a data breach could expose sensitive customer data, such as billing addresses or credit card information. You might have to notify your customers, which could result in claims from affected parties. There's also the possibility of network security attacks that could take down your computers, website, or POS system.
These risks aren't limited to big businesses. It could just as easily happen to your bagel shop. Cyber insurance is included with BOP coverage because it can be a threat to business owners.
What's Not Included With BOP Insurance Coverage?
A Business Owners Policy is a terrific start for helping to protect your business, but there are some exclusions. Depending on the size and nature of your business, you may need additional coverage not included in a traditional BOP.
For example, general liability could protect you if a customer slips and falls, but what if an employee gets injured on the job? For this scenario, you should consider Workers' Compensation insurance. This type of coverage can help to cover the medical, financial, and legal expenses related to a workplace injury.
How Much Do Insurance Policies for Business Owners Cost?
With so many different scenarios to consider, you may worry about the cost of a Business Owners Policy. How much is coverage going to cost you?
The answer is: It depends.
There's no "one size fits all" solution when it comes to insurance coverage because every business has unique risks. The price you'll pay depends on a number of factors, including:
The size of your bagel shop
The number of employees
Your business location
Your business revenue
How long you've been open
Any prior claims against your business
There may be other factors that affect your insurance costs as well. For example, do you have a sprinkler system? Does your business have multiple locations? Is your business equipped with an alarm system?
When you request an insurance quote, each of these factors (and many more) can help determine how much you'll pay for business insurance. BOP coverage is an effective way to reduce the number of expenses you might have, since it bundles three different policies into one easy payment.
Get BOP Coverage for Your Bagel Shop
You might serve the best bagels in town but to help keep your customers happy and yourself protected, you need to have the right insurance policies.
BOP insurance coverage is one of the easiest ways to ensure you have the coverage you need. By combining your general liability, property, and cyber insurance into one policy, it could also be easier to manage your insurance payments.
Are you ready to get affordable BOP coverage for your bagel shop or food business? Request a free quote online or call us at 1-800-625-8257 to learn more.