How to Open an Ice Cream Shop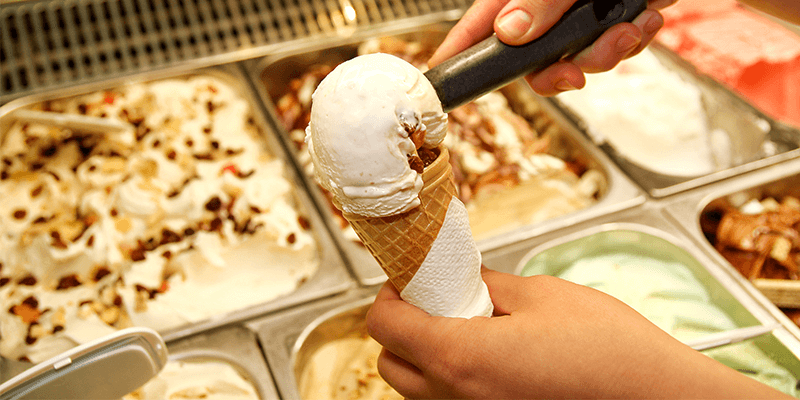 Opening an ice cream shop can be a lucrative and rewarding experience. If you have a sweet tooth and want to be your own boss, it could be the perfect opportunity for you!
If you're thinking about opening an ice cream business, there are a few things you should consider before getting started.
Follow this guide, and you could be on your way to becoming a successful ice cream shop owner.
What Are the Steps to Opening an Ice Cream Shop?
Creating a business plan is the first step to opening an ice cream shop. A business plan is your roadmap to getting started. This document can help guide you through operating and running your ice cream shop business.
A business plan outlines your goals and strategies. It includes information on the company, its products and services, your target market, and the competition.
A thorough business plan could help you stay on track and give your business its best chance for success.
Independent or Franchise?
But first, you need to decide whether you want to be an independent shop or part of a franchise.
If you want complete control over your business and are willing to put in the extra work, starting an independent ice cream shop may be the best option.
If you want a proven business model and are willing to pay a little extra, buying into a franchise could be the right choice for you.
Choose a Location
The location of your ice cream shop is vital for several reasons. First, it could affect your start-up costs. Second, it might impact who your target market is. And third, it could determine who your competition is.
When choosing a location for your ice cream shop, consider the following:
Cost of rent or purchasing a commercial space
Demographics of the area
Competition
Foot traffic
Visibility of the location
Market Analysis
Research the ice cream industry, the ice cream market, and your competition. Doing this can help you decide what type of ice cream shop you want to open and how you plan to grow.
Analyze Your Target Market
Who is your target market, and how will you reach them? What do they want and need from an ice cream shop? Do they like hard-serve or soft-serve ice cream, or both? Once you know your target market, you can create a marketing plan.
Your target market is the people most likely to purchase from you. To find your target market, you should research the ice cream industry and your local competition.
Consider Your Competition
Who are your competitors? What do they offer that you don't? How can you make your ice cream shop better than theirs? Do they offer milkshakes or frozen yogurt? How many flavors do they have? Knowing your competition could help make your ice cream shop successful.
Financial Projections
Your financial projections should include start-up costs, running costs, and expected profits. It might help you determine if starting an ice cream shop is a viable option for you. Make sure you research and have a solid financial plan before starting your ice cream business.
You may also want to take a look at our easy insurance cost estimate calculator and save it for future reference.
Start-up Costs
Starting an ice cream shop may need significant investment. You should factor in the cost of rent, equipment, inventory, and staff.
Running Costs
The cost of running an ice cream shop might need some careful research to have an accurate projection. Your running costs might include the cost of utilities and labor. You may also need to factor in the price of supplies, rent, staff, and marketing.
Expected Profits
The profitability of your ice cream shop will depend on many factors. Once you calculate the final projected profits, you could have better luck with financing.
Get Financing
If you do not have the necessary financing, you may need to apply for a small business loan or look for investors.
Before applying for a loan, you may want to create a business plan that includes the financial projections of your ice cream shop. When you prepare your loan application, be ready to answer questions about your business and strategies for growing your business.
If you are looking for investors, you might want to consider giving them a percentage of ownership in your ice cream shop.
Get Small Business Insurance
Getting small business insurance is a smart way to help protect your business. Small business insurance can protect your business from accidents or injuries. It can also help protect against theft, property damage, and legal liability.
Workers' Compensation insurance is required in many states if you have employees. This type of insurance helps to protect your employees if they get injured on the job. It could also save you from lawsuits if an employee sues you for their injury.
A Business Owners Policy is another type of insurance you might want to consider. A Business Owners Policy from PolicySweet® contains three primary coverages: general liability, property, and cyber-risk.
General liability insurance helps protect your business from a variety of risks, such as accidents, injuries, and third-party property damage claims.
Property coverage helps to cover tools or equipment your business relies on to operate. It could also pay for things like loss of income as part of a covered loss.
Cyber insurance can help protect your business from the impacts of hacking, data breaches, and other cyber-attacks. Cyber insurance could help cover the cost of responding to a cyberattack by covering costs to investigate the cause, scope, and extent of the damage.
The amount and type of insurance you need will depend on your business's size, location, and products or services.
Create a Brand
The name, logo, and design of your ice cream shop should reflect your brand. Your brand is what makes your ice cream shop unique. It should be consistent across all your marketing materials.
They should be simple and easy to remember. They should also reflect the type of ice cream shop you are starting.
Marketing Plan
A marketing plan includes how you plan to promote your shop and attract customers. Understanding your target market could help with creating an effective marketing plan.
This could help you decide what type of promotions you might want to run and how to get the word out about your ice cream shop.
One of the best ways to get new customers is to make it easy to find your business. You should consider creating a website and social media profiles. You can do this yourself or hire an agency to create and maintain your marketing.
Starting an Ice Cream Has a Lot of Sweet Perks
Now that you understand the steps to opening an ice cream shop, you can begin planning your own business. Use this guide as a starting point, and do not hesitate to reach out to experts for help along the way.
Starting an ice cream shop can be a rewarding and profitable experience with proper planning and execution. We wish you the best of luck opening your own ice cream shop. And when you're ready to shop for insurance, reach out to PolicySweet® to get coverage for your business. Get a free quote today!