How to Start Your Own Furniture Business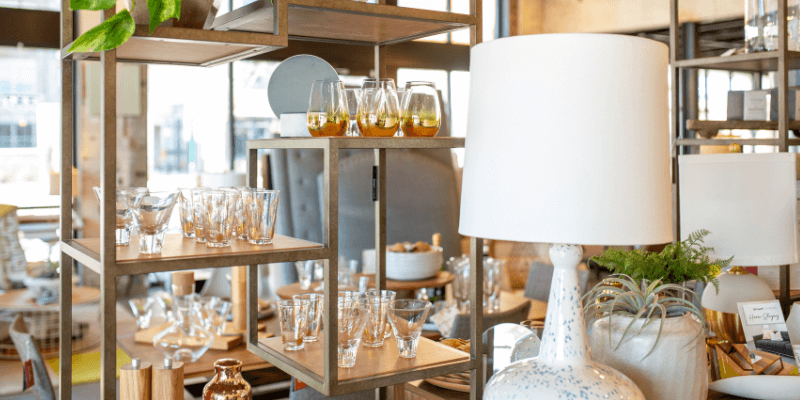 If you have an eye for design, an acumen for business, and enjoy working with customers then starting a furniture business might be right for you.
Setting up a furniture business may seem challenging if you aren't sure where to start. If you don't go into it prepared, you could be setting yourself up for frustration and failure. We prepared this guide to help equip you with the basics of starting your own furniture shop.
Find Your Niche
Decide the type of furniture you wish to sell as you plan to open the store. Depending on your knowledge and interests, you may choose to specialize in modern, traditional, or contemporary home furnishings. Either way, you should specify the pieces of furniture you want to sell.
Your target market in the furniture business can be commercial, hospitality, or residential customers. Identify the target market you wish to serve to give your business a sense of direction. Also, decide whether the store will serve local customers or expand to a broader market.
A market analysis can help you assess the demand for your pieces. You could use it to help you identify the unique needs and characteristics of your target customers. Remember to find out what your competitors are offering to determine if there's a gap in your niche.
Come Up with a Sound Business Plan
Invest time drafting a business plan to help you achieve both short-term and long-term goals. The plan could provide your store with a road map to success, help you identify future financial needs, and potentially attract investors.
Your business plan should include a description of your company. State the types of products you will sell, vendors you will work with, and your unique selling point. It should also highlight your target customer and their needs.
Use the business plan to explain your market analysis for profitability. Give details on how your store may fill a gap in the furniture market. Remember to define a business structure (corporation, partnership, or proprietorship) for tax filing purposes.
The business plan should map out a marketing and advertising strategy for your business. Use it to forecast growth and identify strategies that could help you expand to new markets. It should also give financial projections for your store in five years.
Structure the Business
Your business can take the form of a sole proprietorship, partnership, or corporation. The chosen structure may affect your tax filing processes. A legal counsel or a certified public accountant can help you navigate this step if it's your first time starting a business.
Register the furniture business with your local Secretary of State to make it a legal entity. Your business location and structure depend on where and how you need to register the venture. Also, get a federal tax identification number from the tax authorities, depending on your state.
You might want a reliable phone system to separate your personal life from business life. The phone system could make it easier for clients to reach you and to manage your business. It can also make you appear credible to potential clients.
Decide whether to run the business as an online store, a brick-and-mortar store, or both. You may rent or buy a storefront to act as a walk-in location for your customers. Creating a website to take online orders might also be a good idea for your business.
If you'd like to launch a brick-and-mortar store, choose a space that's convenient to your target customers. The space should also accommodate your customers and shipping services.
Obtain Licenses, Permits, and Insurance
Depending on the state the business is located in, a license may be mandatory. Visit your state government website to determine the licensing requirements of a furniture business. Learn more about the location-specific regulations and the state and federal safety regulations.
Your furniture store should consider business insurance to help protect it from financial liability during a loss. Sign up for a Business Owners Policy to help protect your business and Workers' Compensation insurance for your employees. A Business Owners Policy from PolicySweet includes a property, cyber, and general liability coverage into one policy.
Get a Business Bank Account and Credit Card
A dedicated bank account and credit card could protect your business investments from your personal ones. If you mix your business accounts with your personal accounts, you may risk losing personal assets like your home when facing a lawsuit.
Learn how to build excellent business credit before signing up for a credit card. With this knowledge, it's easier to get higher lines of credit and better interest rates.
Come up with a business accounting strategy to track your sources of income and expenses. The strategy could help you understand your business's financial performance. It could also allow you to keep detailed and accurate accounts needed when filing tax returns.
Fund the Business
As you determine the funding sources for your business, map out your start-up expenses. With an accurate budget for your start-up, you may have a clear vision of the capital you might need. It'll also be easier to predict your profits in the first year of doing business and their tax liabilities.
Your start-up expenses may include business structuring and licensing costs. They may also include equipment, business location, and start-up inventory expenses. Your wages, employee benefits, and advertising expenses count as start-up costs.
If you have adequate savings in your personal savings account, you may use them to fund the business. Asking family, friends, or business associates for help may also work. If you take a loan from a friend or family member, discuss ways you'll pay it back.
Check out loans offered by the Small Business Administration in partnership with lending institutions for capital. Other funding sources may include peer-to-peer lending sites and personal lines of credit from a bank. You could also tap into your savings or use crowdfunding sites.
Set up the Shop
Decide the kind of furniture shop you would like to open in the area of your choosing. You should also find out the types of furniture sold by your local competitors to determine your unique selling point.
Your furniture store could help consumers express their tastes within their offices or homes. It could offer a curated product selection and follow different themes to help attract different audiences.
Set a Fair Price for Your Offerings
Your store's pricing should reflect the style, the materials used, and the product's value. Calculate your products' value to guide your business model and help you set fair prices. With reasonable pricing, you can choose an appropriate advertising model and a mission statement.
Choose an ideal price point to help your business stand out from your competitors and appeal to customers. A high price could keep your inventory low and might only cater to a small market segment. On the other hand, a low price could make your company compete with other cost-effective furniture makers.
Charge a fair rate informed by the unique value your furniture pieces offer to consumers. Consider the type of furniture you intend to sell and whether customers can't find it elsewhere.
Market the Furniture
A good marketing strategy can help determine how your target customers perceive your business. It could help strengthen your furniture brand to stand out from competitors. You should also identify and manage the risks of your marketing strategies to prepare for any possibilities.
Understand your target market and meet them where they are. Online and in-store surveys can help you get a clear picture of your ideal shoppers. It could give you insights into their preferences, average income, gender, occupation, and age.
Creating a high-quality website to showcase your pieces is among digital marketing strategies you could use. Consider hiring a web designer for the work and keep the site updated with new content. You could also add a blog page with posts about your design process and shopping tips.
Affiliating your business with local galleries can help you display your pieces as artwork. The affiliation could help you reach more customers who'll see your work first-hand. Customers could even get a chance to buy pieces they like from the gallery.
Consider choosing social platforms that could appeal to your target customers for you to market the pieces to them. For instance, Instagram may be an ideal social networking platform if you're targeting millennials. Older consumers are likely to use Facebook while decorating enthusiasts typically use Pinterest.
Ready to Start a Furniture Business?
Thanks to the tips discussed above, starting a furniture business might not be as difficult as people think. As you plan to open your furniture store, do thorough research on the requirements. Seek professional help at any stage of this process for the best outcomes.
Your furniture start-up can count on PolicySweet® for customized insurance. We help small business owners obtain and maintain business insurance coverage. Get a custom small business insurance quote from us today.