Different Types of Retail Business Insurance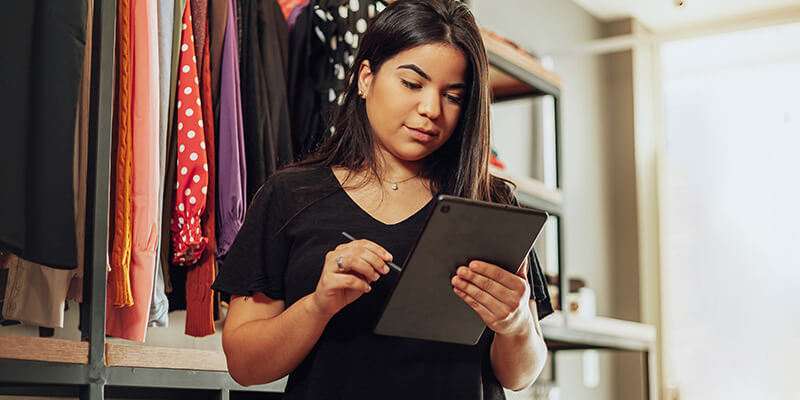 There's a chance of a small business owner making an insurance claim at some point. Whether it's protecting your inventory, safeguarding against business interruption, or covering employees, the right insurance policy helps ensure you're prepared for whatever comes your way.
But insurance can cover a wide range of things. You will want to know exactly what types of retail business insurance policies are out there. Only then can you make an informed decision about which ones are right for your company.
Here are the main types of business insurance for retail stores:
Commercial General Liability Insurance (CGL)
CGL insurance is one of the broadest types of retail business insurance. It typically covers:
Third-party bodily injury
Third-party property damage
Personal and advertising injury claims
Third-party bodily injury occurs when someone other than an employee of your company is injured, and your company is found to be at fault.
Property damage helps to cover the physical damage or destruction of another person's property.
Personal and advertising injury claims include libel, slander, and copyright infringement.
If a customer sues you for any of the above reasons, CGL insurance could help cover:
Legal fees
Settlements or judgments made against your business
Medical payments for an injured person
Expenses to repair or replace third-party property
Commercial Property Insurance
Your retail business is your livelihood. But what happens if a natural disaster strikes, and you have to close up shop?
That's where business commercial property insurance comes in. It helps protect retail businesses from financial loss if business property is damaged or destroyed.
It could cover the cost of repairs, replacement stock, and even lost income in the event a business has to close for a period of time as a result of a covered event, like a fire or severe weather.
There are a number of different factors that should be considered when taking out this type of coverage, such as the value of the property and the level of coverage needed.
However, it is an essential form of protection for many retail businesses. It could give you "peace of mind" in the event of unforeseen damage or destruction.
Cyber Insurance
Retail businesses are now the top target of cybercriminals. In 2021 alone, US businesses were targeted by 421.5 million ransomware attempts. That's because they hold a wealth of customer data, from credit card numbers to addresses and phone numbers.
If you're not careful as a retail business owner, a data breach could financially impact your business. And that's where cyber coverage comes in.
This protection could help to ensure you're reimbursed for any expenses related to a cyber-attack or data breach, like:
Notifying customers of a data breach
Hiring professionals to determine the scope of a breach
Providing credit monitoring services to affected customers
Data breaches can be devastating to a retail business. They are expensive to clean up and can damage your reputation. Cyber insurance can help you recover from the financial blow of a data breach and help protect your business in the future.
Business Owners Policy
A Business Owners Policy, also known as a BOP, bundles key coverages together into a single policy.
If you're looking to obtain general liability, commercial property, and cyber insurance for your retail store, a BOP might be the perfect solution for your retail business. All three coverage are included in a Business Owners Policy from PolicySweet®.
Having a single policy not only helps to cover multiple risks but it could allow you to focus on other aspects of your business instead of spending time purchasing individual coverages. It could even be easier to manage one policy instead of three if an unforeseen event occurs.
What Does a BOP Cost?
Without a Business Owners Policy, you might have to pay for costs out of your own pocket. And that means you'll be putting the financial health of your business at risk.
The cost of a BOP will depend on factors like:
Type of business: The higher the risk, the more expensive the insurance is likely to be.
Location: Insurance rates could be higher for businesses located in cities than in rural areas.
Years in business: Startups are usually charged higher rates than established businesses.
Revenue: The more revenue your business generates, the higher your insurance rates might be.
Workers' Compensation Insurance
In addition to a BOP, another type of coverage you might want to consider for your business is Workers' Compensation.
In many states, if you have employees, you might be required to carry Workers' Compensation insurance. This type of retail business insurance could cover:
Medical expenses
Lost wages
Rehabilitation costs
Death benefits
This coverage is important because it helps protect your employees if they are injured on the job. It could also protect you from being sued by an employee for negligence.
How Does Workers' Compensation Insurance Work?
If an employee is injured on the job, they will file a claim with their insurer. The insurer will then review the claims. If the claim is approved, they could help pay for the employee's medical expenses and lost wages.
What Does Workers' Compensation Insurance Cost?
The cost of Workers' Compensation insurance could depend on factors like:
The state your business is in
Your industry
The size of your company
Your company's claims history
Failure to carry Workers' Compensation insurance can result in steep fines and even jail time. So, if you have employees, you should make sure you're properly insured.
Small Retail Business Insurance for a Thriving Business
Now that you know the different types of retail business insurance, the ball is in your court. It's up to you to pick the right policies to help shield your business from unexpected events.
Don't forget that an insurance policy is only as good as the insurance provider. Ensure you find a reputable insurance company for extensive coverage. PolicySweet is backed by Great American Insurance Company*, which is rated "A+" (Superior) by AM Best**. If you are looking for comprehensive and affordable business insurance, contact us today.
* PolicySweet insurance policies may be provided by unaffiliated insurance carriers in the event Great American Insurance Company and its affiliates are unwilling or unable to provide coverage. Unaffiliated carriers may not have the same ratings and history as Great American Insurance Company.
** AM Best rating affirmed December 3, 2021. AM Best rating of "A+" (Superior) is second of 16 ratings.