Workers' Compensation Insurance for a Retail Business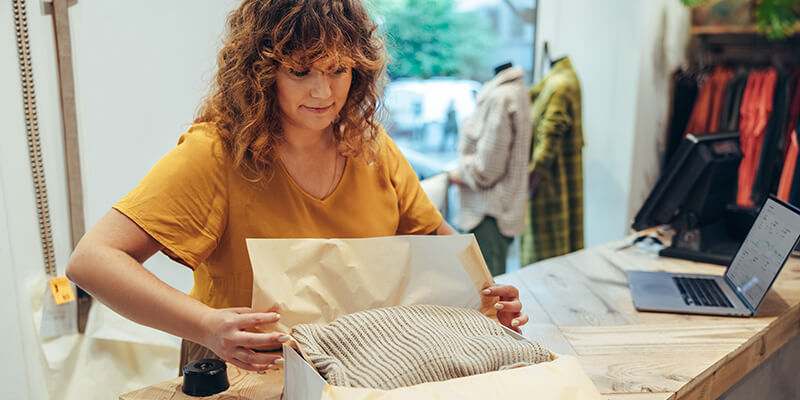 Employees form the fabric of almost every retail business. They service customers, manage inventory, and perform various tasks for the company. However, employees can create liabilities for your business.
When employees perform their work, accidents can happen. An employee can get injured while conducting a task. This employee's injury may need medical care.
If the owner of the retail store does not carry the proper insurance, the employee can sue. This scenario could destroy the relationship between the employee and their employer. It might even involve court hearings and high financial costs for both parties.
Most likely, neither you nor your employee wants to go to court. Workers' Compensation insurance can help protect your business and employees. Retailers should consider this type of insurance policy for their employees.
What Is Workers' Compensation Insurance?
Workers' Compensation insurance could help business owners and employees during a dire situation. Medical expenses from an injury can add up. Lost wages caused by the injury can make those medical expenses challenging to cover.
Workers' Comp could cover an employee's medical expenses and may provide partial wage coverage. This insurance policy only applies to injuries sustained in the workplace.
Workers' Compensation insurance also could protect the business owner. Most Workers' Comp policies come with employer liability insurance. These liability protections help cover court-related expenses that may incur.
Most business owners hope to never use Workers' Comp insurance. This policy gives the employer and employee a backup plan for the unexpected.
How Much Does Workers' Comp Cost?
Workers' Comp costs vary for each retail business. Workers employed in higher-risk jobs lead to higher premiums. A furniture store will likely pay higher premiums than a clothing store. Typically, clothing store employees are less at risk than furniture store employees.
The claims history of a company also influences Workers' Comp premiums. If a company racks up many claims in a short timeframe, its premiums could increase. Companies with fewer claims might see lower Workers' Comp premiums.
Insurers could also review your payroll when assigning premiums as they could be on the hook to replace lost wages. This is why higher payroll will likely lead to higher insurance premiums.
Who Pays for Workers' Comp?
The employer pays for Workers' Compensation insurance. This policy helps to protect the employees and the employer.
Employees could have medical expenses covered. The employer might receive money to assist with court battles.
The extra expense could provide peace of mind for retail business owners.
Does Your Retail Business Need Workers' Compensation Insurance?
The federal government does not require Workers' Comp. That power resides within each state. Most state rulings revolve around companies reaching employee thresholds.
Many states require Workers' Comp if a retail business has a single employee on the payroll. Other states allow business owners to wait until they have five employees on payroll.
The legal ramifications for not carrying the policy can be significant. Some states, such as California, slap noncompliant retail businesses with a fine.
In Pennsylvania, it is a third-degree felony to not provide Workers' Comp. The business owner can find themselves in jail for up to seven years.
Many states prioritize Workers' Compensation insurance with hefty punishments for noncompliant businesses. Avoid the hassles while protecting yourself and your employees with the right policy.
Some states let you shop around for a policy. Other states own a monopoly on Workers' Comp. These states require retail business owners to get the insurance policy from them. North Dakota, Ohio, Washington, and Wyoming have monopolistic control over Workers' Comp.
Prevent an Injury Before It Happens
Workers' Compensation insurance can act as a last line of defense. Ideally, employees should not get hurt on the job. Taking protective measures can help reduce the number of workplace injuries.
As part of the onboarding process, you might want to include safety training for incoming employees. The safety training should explain important details such as:
How to lift goods with proper technique
How to avoid repetitive motion injuries
Proper attire for the job
Empowering your employees to stay safe could mitigate the risk of a work injury. Managing this risk may result in fewer injuries and lower Workers' Comp premiums.
You are responsible for minimizing injuries in your workplace. Take preventative measures and listen to your employees. If they tell you about a workplace hazard, you should address the issue immediately.
Your employees work hard for you. Making the effort to prevent injuries demonstrates how much you care for them.
Receive Customized Insurance for Your Retail Business
It doesn't matter if you sell furniture, clothing, or any other product. All retail businesses should consider Workers' Compensation insurance. You can find a customized insurance policy that protects you and your employees.
PolicySweet® provides free, no-obligation instant quotes. If you accept the quote, your business could receive immediate Workers' Comp coverage. You can receive a quote for your Workers' Comp insurance policy in a few minutes.