Deli Insurance: What Kind of Coverage Do Delis Need?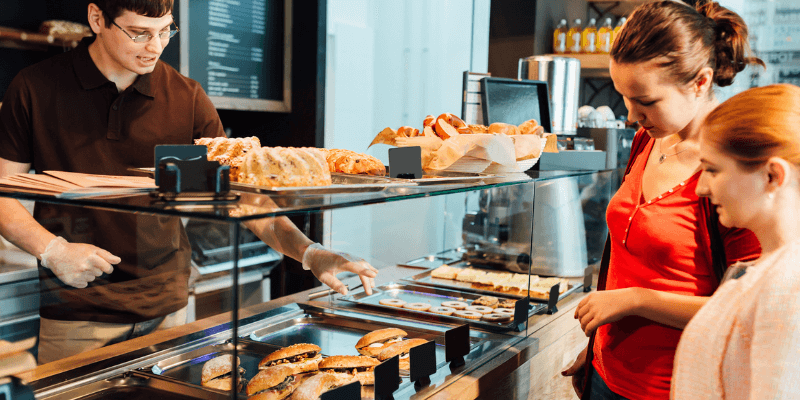 Small businesses make up 99.9% of US companies and employ over 46% of the country's employees. Yet, without business insurance, small businesses could not be the economic powerhouses they are today.
If you own a deli in the US, you, too, may want to help protect your livelihood with business insurance. Small business insurance policies can help your deli stay afloat in case of disaster.
But exactly what kind of insurance should you consider as a deli owner? Today, we are answering this question in our guide about sandwich shop insurance. Keep reading for the types of insurance to consider.
Types of Insurance Delis Should Consider
There are two major types of insurance deli owners should consider, a Business Owners Policy and Workers' Compensation insurance. Learn more about these types of deli shop insurance next.
Business Owners Policy (BOP)
A Business Owners Policy (BOP) offers several types of coverages. This insurance plan typically bundles the following three types of insurance into one overarching policy:
General Liability
Property
Cyber
The cost of BOP insurance varies from business to business. The exact cost can depend on factors including but not limited to your deli's location and the value of your equipment.
We will talk more about the three types of coverage bundled into a BOP in a moment. But first, we want to discuss Workers' Comp.
Workers' Compensation Insurance
Workers' Compensation insurance is also known as Workers' Comp. It could help cover medical costs and lost wages after a deli employee gets injured on the job. And this type of insurance is a requirement in most states.
The exact requirements for Workers' Comp depend on your company's size, industry, and location. Even if your business operates in a state that does not require Workers' Compensation, you may still want to consider obtaining it anyway.
Without insurance, your business may be expected to compensate injured workers out-of-pocket for their lost earnings and injuries. One of the great things about Workers' Comp is that it can help cover these expenses.
What's Included in BOP Insurance?
BOP insurance from PolicySweet® bundles general liability, property, and cyber coverage into one plan. The benefit of getting a BOP bundle over individual policies is that it can help you save time from having to manage separate policies.
Below, we will discuss the types of situations where these insurance policies could cover your business.
General Liability Coverage
General liability insurance is also known as business liability insurance.
Business liability insurance can cover injuries that occur at your deli. This is different than Workers Comp because general liability applies to customers and clients, not employees.
Imagine a situation where one of your customers slips and falls in your deli, leading to an injury. If a slip and fall accident occurs at your deli, your customer could have grounds to sue your business.
Without general liability coverage, you may have to pay out of pocket for damages the customer wins in a suit. But with general liability insurance, your insurance provider could cover that cost instead.
Property Coverage
Does your deli use expensive sandwich-making equipment? If so, you should consider property insurance. Property insurance is a part of a BOP bundle, and it could cover stolen or lost tools and equipment at your deli.
It is important to understand what property insurance will and will not cover. As mentioned, property insurance is for your business equipment. For example, it may cover your ovens, grills, knives, or even your cash registers.
To learn more about what your property insurance policy does and does not cover, make sure you check your policy documents.
Cyber Coverage
Cyber coverage is a type of insurance policy for businesses. If your deli uses digital software systems like an ERP or POS, you should think about cyber coverage. Cyber insurance can cover losses related to data theft or network hacks.
Your business likely collects a lot of financial data on your customers. Imagine if a hacker got access to your systems and, therefore, your data. You could be at risk for exposing sensitive customer or company information.
With cyber coverage, your insurance provider may cover those costs instead. The most common areas of coverage for delis and other small businesses are legal fees and breach investigation expenses.
If applicable, you may also get protection in case you need to notify your customers of a breach.
Get Deli Insurance Today!
Deli insurance is one of the best ways to help protect your business from whatever life throws its way. Whether you need to cover injured workers and customers or equipment and cyber theft, there is a small business insurance policy for you.
Are you searching for BOP and Workers' Comp insurance for your deli? PolicySweet specializes in insurance for small businesses like yours. Get a quote today to find out how much your deli can save on insurance!