A Comprehensive Guide to Starting a HVAC Business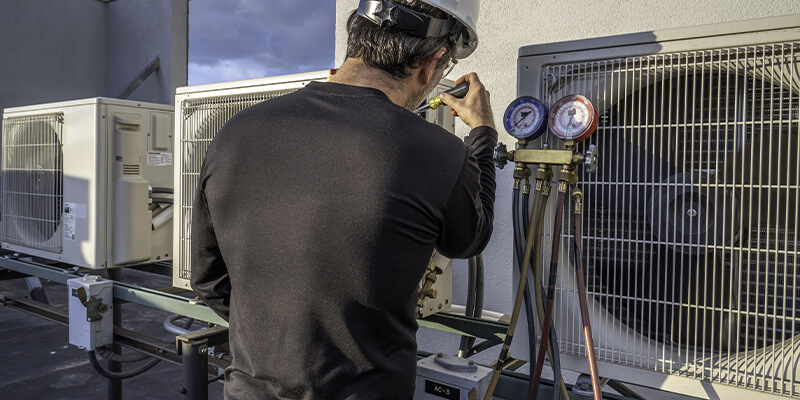 After doing a bit of research, you could be thinking about starting your own HVAC business. After all, if you've been working in HVAC for years, why not maximize your income by spearheading projects yourself?
But before you can get started, you may need to know a little bit more about what starting a HVAC business entails. We can help you with that!
Below, we're going to get into the nitty-gritty of how to start a HVAC business, explaining the steps to get started. Ready? Let's begin!
Put Together a Business Plan
First and foremost, you need to put together a business plan. This is done to ensure that your business has direction. It provides a guideline that could eventually lead your business to success.
The key to a business plan is to draw up a goal. Where do you want your business to be in 5 years? What can you realistically do to get it there?
Make sure that it covers your budget, your funding sources, your prices, your expenses, and everything else that will affect your bottom line. Be as specific as possible and detail your services and processes.
Within this section, you're advised to outline a niche for your business. For instance, will you just provide residential HVAC services, or maybe just commercial HVAC services, or maybe even both? Are you going to deal in cooling and refrigeration, or will you specialize in heating instead?
Assess your local market and determine what type of need is out there. You want to serve a need that is not yet completely catered to. This could provide you with the best chance at profitability and success.
For more information on drawing up a business plan, click here.
Get Your HVAC License
If you don't have it yet, you're going to need to obtain your HVAC license. The journey to obtaining this license will depend on the state that you're in.
You'll most likely need to obtain your HVAC certification first. This involves taking classes and doing hands-on work so that you can learn the ins and outs of HVAC installation, maintenance, and repair. HVAC certification typically can be obtained in anywhere from 6 months to 3 years, depending on the training program in which you enroll.
To find HVAC certification programs in your area, go to Google or another search engine and type in "HVAC certification near me". This should turn up a variety of different options for you to look into.
Once you've completed your HVAC certification program, you'll need to take your state's HVAC licensing exam. You can't do HVAC work in a professional capacity until this exam has been passed and you've earned your license.
Note, some HVAC specialties require further licensure. Make sure to read up on the laws in your state before launching your business. And, to get you started on your journey to earning certification and licensure, you may want to go through practice exam questions or find other practices exams online.
Register Your Business With Your State and Local Boards
Next up is to register your business with your state and local boards. In most states, HVAC companies are required to register for both standard business licenses and specialized HVAC licenses.
It's vital that you register your business for both. If you don't you could be operating your business illegally.
Though it's not true of all municipalities, many require some form of registration prior to business being conducted. To make sure your business is following protocols, place a call to your local town hall and get verbal clarification.
Note, if you're doing work in towns other than your base town, you might be required to register in those towns as well. Again, just be sure of local laws before pursuing any work.
Purchase Insurance
Throughout the course of your work, you could encounter several instances where insurance could help to protect your business. For instance, you might accidentally damage a client's property. Or, one of your employees might get injured while on the job.
If you don't have insurance, you could end up having to pay for these things out of pocket. If you do have insurance, your policy could cover you financially, allowing your business to potentially thrive for years to come.
There are many types of insurance that can help to maintain your operation. General liability insurance could cover medical and legal costs associated with third-party bodily injury and property claims. Workers' Compensation insurance, on the other hand, could cover injuries that occur to your employees while they're on the job.
You might also consider taking out a Business Owners Policy. It combines general liability, property, and cyber insurance, thus covering you in a variety of different situations.
For more information on the types of insurance for your HVAC company, contact an agent here at PolicySweet®. One of our agents will review your options with you and guide you in the process of purchasing insurance for your business.
Market Your Business
Arguably the most difficult part of launching a business is marketing it effectively. If you don't market your business effectively, you may not obtain an adequate number of clients, and if you don't obtain an adequate number of clients, you may not be able to make the sales necessary to thrive.
The question is: what does HVAC marketing entail? In truth, there are a variety of routes you can go with this. We'll discuss some ways to market your business below.
Social Media Marketing
Social media platforms are great for small business marketing purposes. This is because they're free to use and capable of connecting small businesses with a multitude of real-life people on a personal level.
Start by signing up for Facebook. Use your personal Facebook page to advertise your business page. This could help you bring in some initial followers.
Consider using Instagram and Twitter as well. These channels could help you reach a wider demographic.
Make sure to post several times a week on each platform, posting everything from statuses about your company to funny memes to pictures and more. If people comment on your posts, comment back and create a dialog.
Over time, consistent social media usage should help you obtain new followers. With any luck, some of these followers will eventually be customers.
Radio/TV Marketing
Though it doesn't quite have the draw that it once did, radio/TV marketing still works, even on a local level. There are still plenty of people listening to local radio and plenty of people watching local TV.
Of course, you may have to spend a decent amount of money in order to pursue this. However, it could provide you with instant exposure and likely a few clients as well. If you do this, you may want to write a quality script, utilize good actors, and record it in a professional studio.
Networking
In the early days of your business, perhaps the best way to get business is to network. In other words, get out there and talk to people. Bring up your business, inform individuals of your services, and let them know that you're available if needed.
You can do this in both formal and informal settings. So, whether you're hanging out with new people, are in groups online, or are going to a networking event, make sure to speak up. You never know where you might find a new client.
Buy Necessary Equipment
HVAC work is fairly heavy-duty. It requires a lot of equipment, some of it small and some of it big and bulky. This includes everything from wrenches to cutters to saws to leak detectors and more.
You'll, of course, also need to lug around new HVAC units. And you're not exactly going to be fitting those in the back of a car. So, to carry them safely and sufficiently, you may want to consider purchasing a truck or a van.
In short, before you can start your business, you'll need to get your hands on quite a bit of stuff. Find low-cost buys where you can and try to stay under a predetermined budget.
Hire Employees
You might be able to get the job done on your own when you are first starting out. This is especially true if you're only doing small jobs for standard residences.
However, at some point, you may eventually need to bring in additional employees for a variety of purposes. For instance, you might need a secretary to answer the phone, or a marketing coordinator to operate your social media accounts, or additional HVAC techs to help get more jobs done.
Preferably, you may want to start with as few employees as possible. This way, you'll keep your expenses to a minimum as you grow. Then, you can add employees over time as a means of scaling your operation.
Note, once you do start adding employees, you'll want to get Workers' Compensation insurance. This could help you pay for medical expenses in the event that one of your employees is injured on the job.
Remember the Technical Aspects
Finally, you need to remember the technical aspects of running a business. This includes everything from payment processing to bookkeeping to customer management and more.
You'll need to keep track of every job you do, along with the amount of money it brings in, the amount of money that you spend, and more. To do this, you could use an app or software for business expenses.
You'll also need to come up with ways in which your customers can pay you. It's generally wise to have a card swipe mechanism on-hand, either on your phone or independent from it. You could also consider providing a payment option on your website.
Starting a HVAC Business Doesn't Have to Be Difficult
Reading all of this might be a little overwhelming. However, the truth of the matter is that starting a HVAC business doesn't have to be difficult. Just take this advice piece by piece and set it into action until your business is fully launched; you'll be a success soon enough!
Looking for small business insurance for your HVAC business? PolicySweet can help.
Contact us
now for a free quote!